Labour Loses Ground in `Patchy' English Local-Elections
by
Labour down 20 seats after 79 of 124 councils announce results

Opposition party had been predicted to lose net 150 seats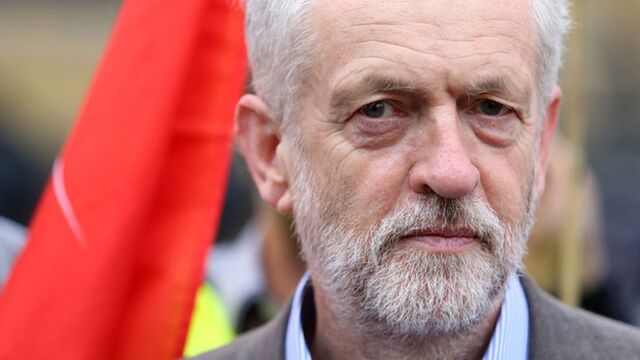 The U.K.'s main opposition Labour Party lost ground in English local elections that marked the first big test of Jeremy Corbyn's leadership, though its losses weren't as large as forecast after almost two-thirds of councils had declared results.
"We're holding our own more or less," former cabinet minister Peter Hain, a Labour lawmaker in the upper chamber, the House of Lords, told BBC Television. "It's very mixed, very patchy."
Shortly before 9 a.m. in London, Labour had taken 779 seats after 80 of 124 local councils had announced results, a net loss of 24 seats. With more than 2,700 English seats up for election, Colin Rallings and Michael Thrasher, professors of politics at Plymouth University, had forecast Labour would lose 150.
The inconclusive set of results may not provide enough fuel for Labour lawmakers seeking to oust Corbyn, even as Labour looks set to become the first main opposition party to lose seats outside general-election years since 1985. Even so, rank-and file lawmakers voiced their dissatisfaction that the party was unable to take advantage of the deep divisions that have riven Prime Minister David Cameron's Conservatives ahead of the June 23 referendum on the U.K.'s European Union membership.
"At this stage of the government, and with the Conservative Party in such disarray and disunity over big things like Europe, we should have tonight been making substantial gains," Jo Cox, who represents the northern English constituency of Batley & Spen in Parliament, told the BBC. "It's been a very weak night for Labour and this is not a route back to power in 2020," when the next general election is scheduled.

The U.K. Independence Party, which is campaigning to leave the EU, was the biggest gainer in England, taking a net 20 seats. Although it took just one parliamentary seat in last year's general election, UKIP won 13 percent of the vote, and awareness of the party is now at a high with the Brexit referendum looming. A good showing for UKIP may spark renewed market concerns over the possibility of a Brexit, according to analysts at Nomura and Jefferies.
"We've got more elected voices to push for Brexit in the next few weeks," UKIP Leader Nigel Farage told BBC Radio 4's "Today" program. He said on Sky News television that "unless the Labour Party were to change course, UKIP will go on growing at the expense of Labour."
Labour also lost ground in elections for the Scottish Parliament, where the Conservatives were the main beneficiaries, and for the Welsh Assembly, where UKIP and Plaid Cymru, the Welsh nationalists, gained support at the expense of Labour, the Tories and the Liberal Democrats.
'Peripheral Issues'
"After six years of a Tory-led government, we should not be losing seats," Labour lawmaker Neil Coyle told the BBC late Thursday. "We're moving further away from government, I think, because we seem to be fixated on some issues that are peripheral and we seem to have a team that isn't projecting either unity within the party or a vision and policies that the voters want."
Tom Watson, Labour's deputy leader, pleaded for party activists to show "patience" with Corbyn and give him time to sell his policies to the public.
"It would be very unfair and improper, actually, to hang this set of election results on Jeremy Corbyn's peg alone," Watson told the "Today" program. "After only eight months, people would say he needs more time to show the direction that Labour needs to take to win the 2020 general election."
Following are some results of note:
Labour candidate Joe Anderson won a second term as mayor of Liverpool.
Labour lost control of the council in Dudley, central England, as UKIP and the Conservatives gained ground.
The Conservatives lost control of Worcester, while gaining power in Peterborough where no party had a majority at the previous election.
UKIP tied with the Tories on 17 seats in Thurrock, east of London, where Labour slipped to third from first.
Labour held Sheffield Brightside in a special election for the parliamentary seat.
Before it's here, it's on the Bloomberg Terminal.
LEARN MORE