Goldman Sachs Combines Higher Iron Forecasts With a Warning
by
Quarterly views raised by 14% to 47% for remainder of year

The rally could `have negative consequences,' Goldman says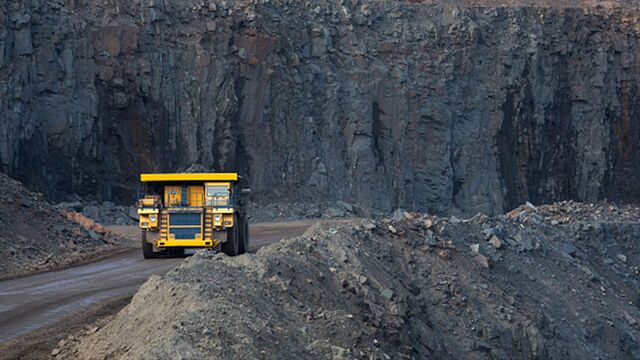 Goldman Sachs Group Inc. raised its iron ore forecasts for the remainder of the year after a surprise rally at the start of 2016, while warning that the price revival may store up problems as supplies are still set to climb.
The outlook for this quarter was increased 47 percent to $55 a metric ton, the July-to-September view was boosted 20 percent to $45 and the call for the final three months rose 14 percent to $40, the bank said in a report received on Friday. The changes, which lifted the full-year estimate 19 percent, come about two weeks after the New York-based bank had forecast a retreat to $35 by year-end on expectations for a return to oversupply.
Iron ore surged in the opening months of 2016, wrong-footing many bearish forecasters, after China added stimulus and presided over an unexpected rebound in the property sector, boosting steel usage in the world's top producer. The improvement in demand surprised Chinese steel mills as a significant contraction in sales last year had led the industry to expect further weakness, while supply disruptions at mines and ports also helped to lift prices, Goldman said. This week, iron ore slid the most in four years.
'Negative Consequences'
This year's rally could "have negative consequences for the sector further down the road," analysts Christian Lelong and Amber Cai wrote. "Marginal producers will have stronger financial positions and greater resilience in the face of oversupply the longer the rally lasts, with the potential for prices falling deeper below marginal cost."

Ore with 62 percent content delivered to Qingdao fell 3.3 percent to $58.29 a dry ton on Friday, according to Metal Bulletin Ltd. While this week's 12 percent slide was the most since 2011, prices are still up 34 percent this year. Beyond 2016, Goldman left forecasts unchanged at $35 for the next two years.
The bank isn't alone in reworking its outlook. In April, Citigroup Inc. raised its 2016 prediction to $45 from $39, while maintaining the market still faces oversupply, and last week the World Bank bumped up its forecast for this year. In a May 5 note, Deutsche Bank AG said it saw so-called upside risks to its outlook for this quarter and next, and the rally probably wouldn't last.
This year, policy makers in China have talked up growth and added stimulus, spurring both a revival in steel demand and prices, as well as a surge in speculative trading in raw-material futures, which has since been damped down. Home sales jumped in March as investment in real-estate development rose in the first quarter. Monthly steel output in March was the highest ever.
Excess Supply
For iron ore's rally to extend into the third quarter, strong growth in steel consumption is required, an outcome Goldman said was unlikely. If the boost to activity by China fades in the third quarter, and steel output tapers off, the increase in ore production will rapidly result in excess supply, it said.
More low-cost production is on the way, according to Goldman. It flagged possible early output from Vale SA's S11D project in the final quarter, as well as what may be the final stage of the ramp-up at Gina Rinehart's Roy Hill mine in Australia's Pilbara. There's also the possibility of a restart at Vale and BHP Billiton Ltd.'s Samarco joint venture, it said.
Increased spending by China "can't suppress bearish iron ore fundamentals indefinitely," the analysts said. "The current rally is a short-term windfall that will soon give way to more mine closures."
Before it's here, it's on the Bloomberg Terminal.
LEARN MORE