Fort McMurray's Evacuation 'Miracle,' by Horse and Chopper
by and
More than 80,000 escape along famously dangerous highway

`Felt like Fear of the Walking Dead' as choppers circled blaze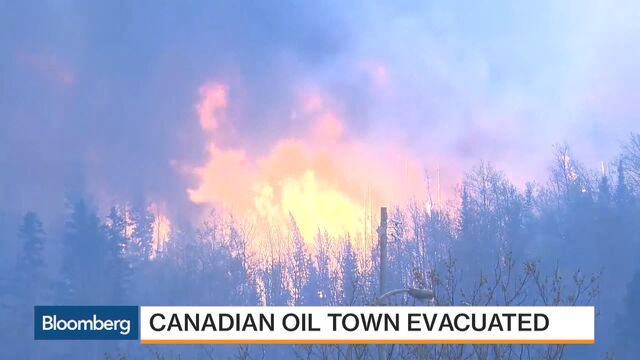 Alberta's Highway 63 could have been a deadly bottleneck. The winding road through northern Canada, notoriously dangerous and little better than a wagon trail in some spots, is the only way into -- or out of -- the heart of the oil sands, Fort McMurray.
And yet when wildfires engulfed the town this week, it was along Highway 63 that nearly all its residents escaped. Police were still escorting southbound convoys on the road early Friday, days after more than 80,000 people had fled -- most in their own vehicles, others by horse, or helicopter.

The precise casualty toll remains unclear. Two evacuees died in a car crash Wednesday, and emergency services haven't yet combed through all the rubble. Nonetheless, many escapees were asking themselves the same question: how did virtually everyone, including a full hospital of patients, make it out alive? Part of the answer lies in the time that the region, and the industry that dominates it, has devoted to preparing for the worst.
Choppers Above
"It felt like Fear of the Walking Dead with all these helicopters flying over us, but what they were doing was trying to figure out, where are people and who can we evacuate out," said Peter Fortna, who fled to the nearby town of Draper and got trapped there. He was rescued by people who run Phoenix Heli-Flight Inc. "They weren't asked by anybody, but they took that opportunity."

Video images show lines of traffic waiting as Royal Canadian Mounted Police -- Mounties, as they're known -- directed vehicles through the infernos raging on either side. Roadblocks set up to protect people from the blaze added to the bottlenecks in a community built on hills, where many neighborhoods have just one route in and out. Traffic frequently ground to a halt, spurring other solutions -- one photo showed a woman riding on horseback.
"I can tell you I was worried that people would panic to extraordinary lengths and do harm to each other," said Melissa Blake, mayor of the Regional Municipality of Wood Buffalo, which includes Fort McMurray, in a news briefing Friday. "That didn't happen."
'Go North'
Jamie London, 35, packed his vehicle and headed north, only to get stuck in the traffic.
"We'd seen the fire coming so we got everything ready -- the closed trailer and the truck," London said. "They said go north and we tried to get out and went 50 feet in three hours."
London, his friend Andy Harnett and some others got Lakeshore Helicopters Ltd., whose owner's son was a classmate, to come pick up London's wife and kids. Lakeshore, among a handful of helicopter operators serving the region's oil and gas industry, typically moves out crews, sets up rigs and monitors pipelines.
Then Harnett and a friend hopped on their off-road vehicles and negotiated their way around traffic congestion and through the flames on Highway 63 just over two hours south, to Harnett's home in Plamondon, which became a gathering place for many families evacuating. Police said early Friday that evacuations from north of Fort McMurray will take four more days.

"That's McMurray," London says of the businesspeople who stepped up, showing the depth of relationships that preceded last decade's oil boom. "People have families that have been here for two generations."
If such spontaneous gestures helped, the bulk of the evacuation effort relied on well-drilled routines. That's credit to the oil-sands industry itself, with its diligent and repetitive safety training, said Brian Jean, a local lawmaker who leads Alberta's opposition Wildrose Party.
---

---
"We have performed a miracle," said Jean, who first moved to Fort McMurray as a child in 1967 when it was an outpost of fewer than 3,000 people. "The people in Fort McMurray are highly trained. The culture is safety first."
The fire is the second tragedy in as many years for Jean, whose son died last year. This week, he lost his house, cars and two off-road vehicles, a boat, photos, jewelry, guns and countless belongings. That there was no loss of life, however, gives him calm.
"It was pretty emotional, losing all my stuff," said Jean, who's camping in a tent for now. "But one thing my son's death taught me all last year is, all this stuff doesn't matter. It doesn't. Compared to one person's life? Not even close."
Before it's here, it's on the Bloomberg Terminal.
LEARN MORE