Employers in U.S. Take on Fewest Workers in Seven Months
by
Retailers, construction companies pull back after recent gains

Jobless rate was unchanged at 5%, while worker pay accelerated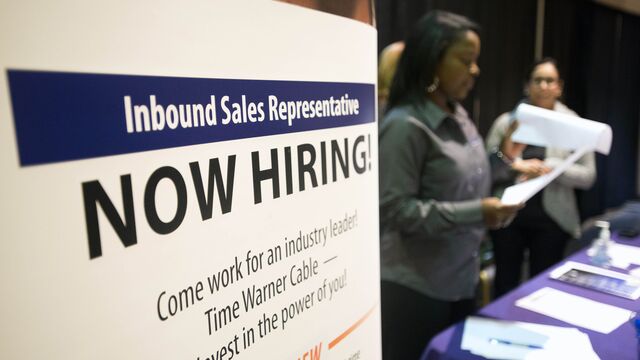 Employers in April added the fewest number of workers in seven months and the U.S. jobless rate held steady as subdued economic growth prompted a more moderate rate of hiring.
The 160,000 gain in payrolls followed a revised 208,000 rise in March, a Labor Department report showed Friday. The median forecast in a Bloomberg survey called for a 200,000 April advance. The jobless rate, projected to ease, stayed at 5 percent, while wage growth accelerated.
Industries that showed strong first-quarter job growth pulled back, with retailers cutting payrolls by the most in two years and construction companies adding the fewest positions since June. More tempered additions to headcounts shows hiring managers are adjusting in the wake of economic growth that has slowed for three straight quarters.
"At the top-line level, this is below expectations so a bit disappointing," said Nariman Behravesh, chief economist at IHS Inc. in Lexington, Massachusetts. "Parts of the economy are resilient and parts of it are not." As for economic growth, "it'll be a modest rebound in the second quarter."
Estimates of 92 economists in the Bloomberg survey ranged from payrolls gains of 160,000 to 315,000. March was initially reported as a 215,000 increase. Revisions to prior reports subtracted a total of 19,000 jobs to payrolls in the previous two months.
The unemployment rate, which is derived from a separate Labor Department survey of households, was projected to ease to 4.9 percent, according to the survey median.
Hourly Earnings
The bright spot in the report was in workers' wages. Average hourly earnings climbed 0.3 percent from the prior month after a 0.2 percent advance. Worker pay increased 2.5 percent over the 12 months ended in April after a 2.3 percent gain a month earlier.
The acceleration in April may have reflected a calendar quirk. Since the 15th of the month fell within the employment survey week, increases in bi-monthly pay are more likely to have been captured, according to RBS Securities Inc. and Morgan Stanley economists.
Wages been hovering just above a 2 percent yearly gain on average since the current expansion began in mid-2009.
The average work week for all private workers rose by six minutes to 34.5 hours.
Retailers reduced payrolls by 3,100 in April, the most since February 2014. Economists had projected retail hiring would ease up in April after a first-quarter surge of 157,500.
Construction Employment
In construction, employment rose by just 1,000 after jumping 41,000 in March that may have reflected milder weather across the country.
Employment in leisure and hospitality also softened, rising by 22,000, the smallest gain in a year. Government payrolls dropped by 11,000 on cutbacks by the U.S. Postal Service and schools.
Professional and business services posted the strongest job growth in April, boosting payrolls by 65,000, the most in six months. Employment in health services increased 38,000.
The household survey showed employment fell by the most since October 2013 and the participation rate, which shows the share of working-age people in the labor force, decreased to 62.8 percent, from 63 percent.
The underemployment rate -- which includes part-time workers who'd prefer a full-time position and people who want to work but have given up looking -- fell to 9.7 percent from 9.8 percent.
Federal Reserve policy makers, who are considering when to raise interest rates next after lifting them in December for the first time in almost a decade, have said they will make further moves gradually. Sustained wage growth would help lift inflation closer to the central bank's goal.
Before it's here, it's on the Bloomberg Terminal.
LEARN MORE