World's Priciest Soccer Player Doesn't Mean Profit at Euro 2016
by
Expanded tournament means more small nations will compete

Wales shows how that's not necessarily very lucrative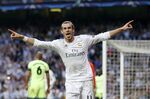 You're an underdog who made it to the razzmatazz of soccer's European Championships for the first time and now it's time to make some money. Well, maybe not.
Wales has the world's most expensive star in Real Madrid's Gareth Bale, but it couldn't feel further away from the glitz of international soccer as it adds up the cost of sending its team to the newly expanded tournament in France that kicks off in five weeks. Instead, the country of 3 million people and three times as many sheep offers a snapshot of the reality of playing in the planet's biggest sporting event after the World Cup and Olympic Games -- if you're not one of the big guys.
First there are the players, trainers and masseuses. Then come the hotels, charter flights to and from the cities hosting the matches and food bills. Finally, throw in the more unusual costs: for Wales that's more than 60,000 euros ($68,300) to connect high-speed Internet at its training base in northwest France to cater to international media.
"I'm already down to literally my last couple of hundred thousand," Jonathan Ford, chief executive officer of the Welsh federation, said in an interview. "It's nice that we are the first to connect Brittany with a fiber optic cable, but it's a bloody expense. Literally, you are talking about digging up roads."
Expanded Tournament
All 24 participating teams get 8 million euros from European governing body UEFA. While that's equivalent to four-fifths of Wales's revenue in the last financial year, it's unlikely to make any money from the competition, Ford said.
There is the additional prize money as the tournament progresses, with as much as 8 million euros more on offer for the winner. But Wales is a 66-1 outsider to be crowned champion, even with the 100 million-euro Bale.
It's partly a reflection of the new format for the Euros, which has expanded from 16 teams four years ago. It's allowed little-heralded soccer nations like Iceland and Albania to qualify for the first time, and Wales to join larger rival England.
Gianni Infantino, the former UEFA general secretary, defended the new look earlier this year. He said the competition was about winning, not just money. Teams that didn't previously think they could reach the finals now approached qualifying games with a different attitude, Infantino said.
"When you give someone the opportunity to participate it creates a completely different dynamic," he said before replacing Sepp Blatter as FIFA president. "The teams play because they believe they can win. Before they were celebrating if they fell into Germany or England's qualification group because of television rights they could sell."
England Game
Wales will meet England in one of its three pool games, and sharing a pitch and style of play is about where it ends. The Welsh federation's income was 10.4 million pounds in the most recent financial year, just one-30th of the English Football Association backed by a roster of sponsors including Mars, McDonald's and Carlsberg. The FA's revenue also includes television rights.
Like other teams of its size, Wales doesn't require the majority of its sponsors to sign performance bonuses, said Ford, meaning Bale's goals to take it to France didn't lead to a windfall. Ford's also not accepting any new sponsors looking to benefit solely from the first Welsh appearance in a major tournament since the 1958 World Cup. So instead he relies on existing deals and UEFA's handout to fund its preparations.
"I don't want to complain because it's fantastic," said Ford. "But the problem we have is it costs quite a lot of money."
Before it's here, it's on the Bloomberg Terminal.
LEARN MORE