Art
Here's Why This Small Painting Costs $20 Million
The backstory behind Sotheby's star lot
by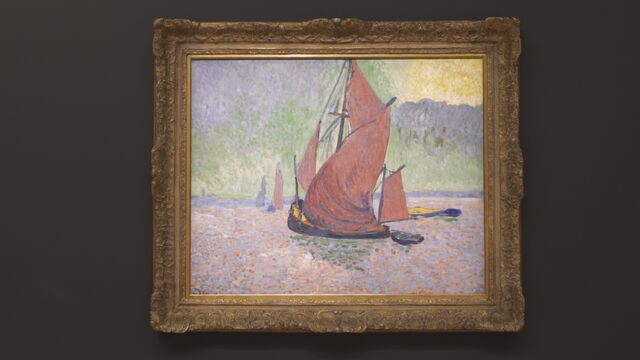 This month, New York will once again host a "gigaweek" of postwar, impressionist, modern, and contemporary art auctions, where hundreds of millions of dollars' worth of paintings and sculptures will sell every night for five days in a row.
The current narrative sending jitters through the art world is that the market, especially at the high end, is experiencing "a correction," which is a polite way of saying that wildly expensive paintings are becoming slightly less so. Still, the evening auctions have more than enough multimillion-dollar, museum-quality artworks that will (if they sell) quiet naysayers—at least for now.
The most expensive of these lots in Sotheby's Impressionist & Modern Art Evening Sale, on May 9, is a fauvist painting by André Derain, Les Voiles Rouges ("The Red Sails"). The work, which Derain painted on a trip to London in 1906, measures 30 inches by 39 inches and is estimated to sell for $15 million to $20 million.
What makes it worth so much? There are three broad factors to consider: artistic quality, the market for similar works, and the painting's provenance.

Start with the artistic quality, because this is both the most arbitrary (what is taste?!) and the most important. Derain was part of a group of Young Turk artists who were derisively called fauvists (meaning "wild beasts" in French). Their artwork, which was produced during just a few years at the beginning of the 20th century, is highly sought-after, and virtually every museum with a Western 20th century art collection has, or would like to have, a fauvist work. That brings us to the second point.
Put simply, few paintings of this quality and size are still on the market; just four paintings that anyone could really consider "major" have gone to auction in the past six years. The ones that did, though, sold for massive sums. Derain's record is $24.2 million, which is what one collector paid for a 1905 landscape at Sotheby's in 2010; in that light, the $20 million estimate for Les Voiles Rouges could be considered fairly conservative.
Finally, the painting's provenance (aka: who owned it before). Sarah Campbell Blaffer, heir to both the Texaco and ExxonMobil oil fortunes, purchased the work in 1951 and kept it in a private family collection, passing it on to her daughter, Cecil Blaffer Hudson von Fürstenberg (related to designer Diane von Fürstenberg by marriage). Except for a brief museum showing 20 years ago, it hasn't been seen in public since. After Cecil's death, in 2006, the painting went to her heirs, who are now selling it.
It's arguable how profoundly a painting's provenance will affect its purchase price. Obviously if an object is owned by a celebrity or royalty (or a Kennedy, which is a nice combination of both), it confers a certain prestige. Merely solid provenance, such as that of the Derain, will potentially help the painting's sale and, at the very least, certainly won't hurt.
The moment of truth will come midway through the auction—it's Lot 24 of 62. Despite all of its merits, for the painting to hold a multimillion-dollar value, someone ultimately has to buy it.
Before it's here, it's on the Bloomberg Terminal.
LEARN MORE