Irish Premier Enda Kenny Breaks Deadlock to Win Second Term
by
Kenny will lead minority administration propped up by rivals

Analysts says new government probably won't last full term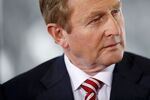 Irish Prime Minister Enda Kenny won a second term at the helm of the fastest-growing economy in the euro region, ending more than two months of political deadlock.
After brokering a deal with Fianna Fail and independent lawmakers, Kenny, 65, won a vote in parliament in Dublin on Friday that allows him to lead a minority administration. Three previous attempts to win backing for his candidacy were defeated. Kenny was re-elected by 59 votes to 49. Fianna Fail abstained.
While Irish bonds have been world-beaters during Kenny's five years in office, voters overlooked his record of economic achievement in February elections that ousted his coalition government. Instead, they punished him for imposing a raft of new levies aimed at closing the budget deficit following Ireland's international rescue. To avoid the political instability roiling fellow bailed-out nation Spain, Kenny handed his rivals concessions to secure power.
A minority government "is, by no means, an optimal outcome for political stability, but has become the least worst option given the disparate results of the election," said Dermot O'Leary, an economist at Goodbody Stockbrokers in Dublin. "Nevertheless, it's time to move on."
Kenny will name the members of his government within the next few hours, with Michael Noonan tipped to be re-appointed as finance minister after overseeing Ireland's exit from the bailout program in 2013.
Investors have remained relaxed about the political stalemate. Ten-year Irish bonds yielded 0.93 percent on Friday, taking the difference over German benchmark securities to 77 basis points. Backed by the European Central Bank, Irish bonds returned 92 percent since Kenny and his Fine Gael party took office in March 2011, the best performance in the world and more than twice the average for the euro region, according to Bloomberg indexes.

Kenny's coalition drew about 35 percent of votes in February's election, slumping from 55 percent five years earlier. That result left him at the mercy of his main rival, Fianna Fail, which only agreed not to block him after extracting promises including the suspension of water charges, a demand that one of his senior ministers labeled "ridiculous."

Kenny also caved into pressure to tackle banks, agreeing to push lenders to cut mortgage rates and adding protection for debt-laden homeowners. Still, the new administration probably won't run a full five-year term, analysts say.
"Although assurances have been given that the arrangement is to last for a minimum of three budgets, legitimate questions remain over its stability, " said Ryan McGrath, head of fixed-income strategy at Cantor Fitzgerald LP. "Given the historical baggage between Fine Gael and Fianna Fail and the tensions which were eminently visible during the negotiations, we see it unlikely that a minority government could last until the end of 2018. "
Before it's here, it's on the Bloomberg Terminal.
LEARN MORE