Vegetable-Oil Rally Boosts Global Food Prices to Four-Month High
by
World food prices rose for a third straight month in April: UN

Palm oil, soybean prices have climbed amid recent bad weather
Global food prices extended increases in April after weather concerns from Malaysia to Argentina sparked rallies in vegetable oils.
Food costs in the United Nations' global index rose about 0.7 percent last month to 151.8, a third straight gain and the highest level since December for the gauge, which monitors 73 different food prices from around the world. Recent increases mark a change in trend for the index, which has slumped for much of the past two years following bumper harvests worldwide.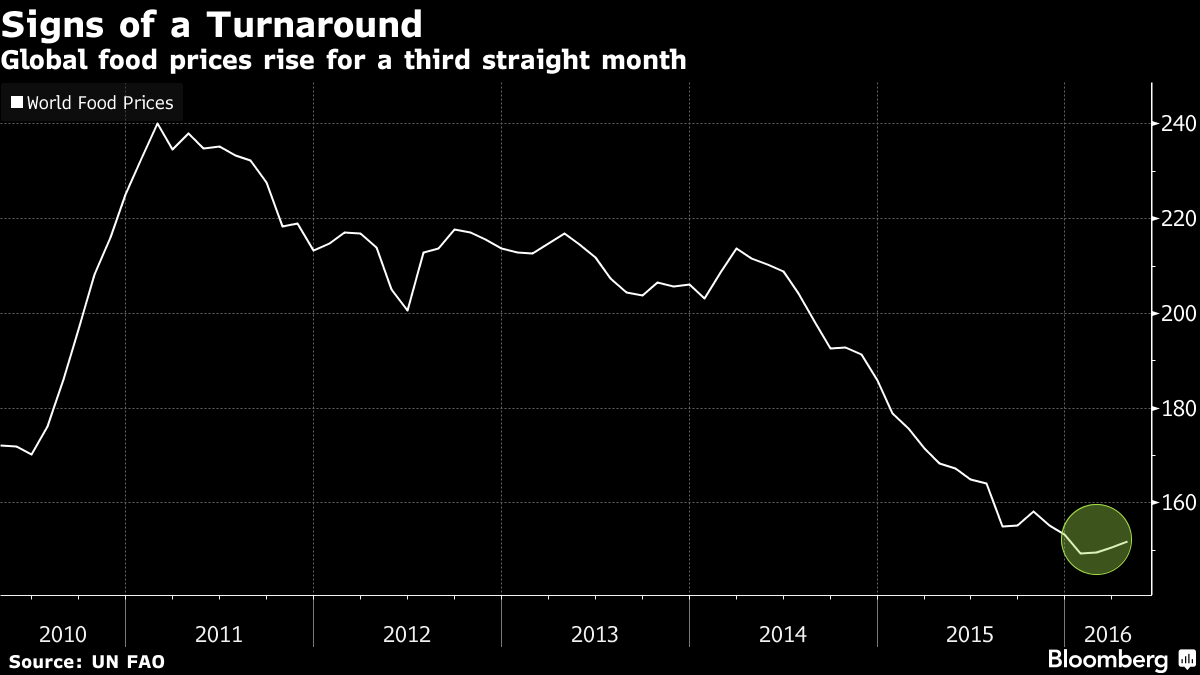 Prices of palm oil have climbed in recent months as El Nino-induced dry weather hurt production prospects in Indonesia and Malaysia, the world's top two growers. Prices of soybeans have also surged recently as torrential rains and floods hurt crops in Argentina just as the harvest was starting. Global vegetable-oil costs climbed 4.1 percent in April to the highest since 2014, the UN's Food & Agriculture Organization said.
Grain prices also rose in April, while dairy and sugar costs declined, according to the report. Prices of corn and wheat on the Chicago Board of Trade, the global benchmark, got a boost last month from the rally in soybeans and as dry weather threatened crops in Brazil.
Still, prospects for global grain supplies are improving amid favorable weather conditions in the European Union, Russia and Ukraine. The UN FAO raised its forecast for world wheat production in 2016 by 0.6 percent from last month's estimate, pegging the crop at 717 million metric tons. That would still be about 2.2 percent smaller than the record harvest achieved the prior year.
Total grain production will reach 2.526 billion tons, similar to the previous season. Soybean output will decline to 317 million tons, almost 5 million tons less than previously expected, because of adverse weather in South America.
Before it's here, it's on the Bloomberg Terminal.
LEARN MORE