Erdogan Strengthens Grip on Turkey With Ouster of Premier
by , , and
Davutoglu's premiership will end after party elects new leader

`It was not my preference to see my term cut short': PM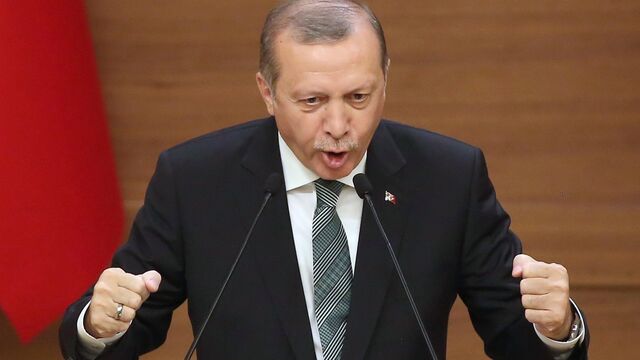 Turkish Prime Minister Ahmet Davutoglu is stepping down as leader of the ruling party, ending a market-roiling struggle over President Recep Tayyip Erdogan's quest for greater powers while opening a new chapter of uncertainty in a country pursuing closer ties with the European Union.
"It was not my preference to see my term cut short," Davutoglu said in the capital Ankara on Thursday after meeting with senior members of the AK Party. "It was the result of necessity."
QuickTake Turkey's Continental Divide
The leadership crisis has raised questions about everything from the management of Turkey's $720 billion economy to the fate of its EU membership talks and the flow of war refugees from neighboring Syria. Erdogan, who's run the country of 75 million for more than a decade, has tightened his grip on power since moving to what had been the largely ceremonial role of president in 2014, sidelining his handpicked successor along the way.
Erdogan is pursuing an "Asiatic model" of development, consolidating power with the help of a "small group of unelected advisers," said Tim Ash, head of emerging-market strategy at Nomura International Plc in London. "Bad policy choices might well result, damaging long-term growth prospects."
Turkish assets were mixed, with the lira rebounding from its biggest decline in eight years, while stocks and bonds extended declines.
Erdogan 'Brotherhood' 
In a televised speech, Davutoglu defended the economic record of his 20-month premiership and swore personal allegiance to Erdogan, with whom he said he shares a "brotherhood."
"Turkey, whose economy was perceived to be near an economic crisis late last year, is currently showing healthy symptoms," Davutoglu said, adding that investors shouldn't doubt future AK Party governments will continue "this environment of stability."
Davutoglu, 57, said that his party will hold an emergency convention this month to choose his successor and that he'll remain a lawmaker in parliament. Presidential adviser Cemil Ertem told NTV television before Davutoglu's announcement that he doesn't expect "a qualitative change" to the team overseeing the economy.
Late-Night Talk
Erdogan and Davutoglu met late Wednesday without disclosing details of their talks, but a person familiar with the matter said Davutoglu intended to tell Erdogan that he needed to respect the prime minister's office or he'd be forced to call an emergency convention. The showdown came less than a week after the AKP's board stripped him of the power to name local party officials, a move orchestrated by rivals while he was in Qatar, the person said.
"Erdogan wanted a pliant prime minister and Davutoglu had ambitions to be his own man, but Davutoglu did not have a power base in the party," said Steven Cook, senior fellow for Middle East and Africa studies at the Council on Foreign Relations. 
People close to the two leaders said they were locked in an unsustainable split over policy, including over how to manage the economy. Davutoglu and his allies have argued for more orthodox policies, an agenda that Erdogan and his backers blame for high interest rates and slowing growth.
Rifts between the leaders emerged shortly after Davutoglu took office in 2014. The first major split came when Davutoglu proposed a "transparency package" aimed at tackling corruption. Erdogan, who quashed a graft probe while prime minister, said the measure was premature. It was withdrawn in February 2015.
"What's important is to not forget how you came to where you are, what you need to do there and what your targets are," Erdogan said at his palace in Ankara on Wednesday.
Before it's here, it's on the Bloomberg Terminal.
LEARN MORE