Turkish Bonds Tumble as Credit Risk Climbs on Premier's Ouster
by
Stocks decline, credit risk climbs to one-month high

Any renewed political uncertainty credit negative: Moody's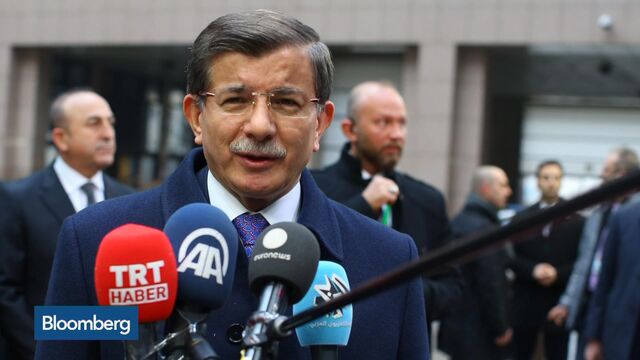 Turkish bonds retreated the most among major emerging markets and credit risk climbed as investors assessed the economic cost of a political showdown that prompted the prime minister to say he's stepping down.
The yield on the five-year government note jumped 25 basis points to 9.73 percent, the biggest daily increase since January. Prime Minister Ahmet Davutoglu said he won't seek reelection at an extraordinary party convention later this month after losing a power struggle with President Recep Tayyip Erdogan. The cost to protect the country's debt against default climbed to a one-month high and stocks fell for a fifth day.

The breakdown between Davutoglu and Erdogan ushers in a fresh era of political uncertainty, raising questions ranging from the president's bid to coalesce power through a constitutional amendment or early elections to the future path of economic policy. That's undermining new-found optimism on Turkish assets after the Federal Reserve became more cautious about tightening U.S. monetary policy and slowing inflation gave Turkey's central bank room to lower interest rates for the first time in 13 months.
"The market will react accordingly depending on who emerges as the most likely candidate to become the next prime minister," said Piotr Matys, a strategist for emerging-market currencies at Rabobank in London. "It is fair to assume that it will be someone more loyal to Erdogan. More importantly, the market will have to seriously assess the possibility of early general elections as well."
The cost of insuring Turkish debt against default for five years rose for a fifth day, increasing seven basis points to 267, data compiled by Bloomberg show. There were 7,370 credit-default swaps contracts outstanding as of April 29, covering a net $7.7 billion of Turkey's debt, according to data from the Depository Trust & Clearing Corp.
Any renewed political uncertainty is credit negative for Turkey, as it can diminish investor confidence at a time when the country remains "highly dependent" on external capital to finance its sizable current-account deficit, Moody's Investors Service said in e-mailed comment. The company rate Turkey's debt at Baa3, the lowest investment grade.

The political spat, which surfaced last week with Erdogan's loyalists in the AK Party stripping Davutoglu of his ability to appoint local party chiefs, has prompted traders to rule out prospects for cuts in borrowing costs. Swaps that gauge expectations for the central bank's overnight-lending rate in one month have climbed to 10.33 percent. That's 54 basis points from a low on April 26, within a week after policy makers cut the benchmark to 10 percent. The reversal in expectations also followed comments from some Fed officials this week that signaled a potential for higher U.S. rates.
The lira climbed 1.3 percent against the dollar after falling the most since 2008 yesterday. The currency's 14-day relative-strength index dropped below 30 on Wednesday, a level that signals to some analysts a security may have declined too fast and be poised to reverse. Traders boosted their bets for lira volatility by 63 percent this week, toward the biggest jump since May 2006.
"The sharp depreciation in the currency warrants some tightening in liquidity conditions," Erkin Isik, an Istanbul-based strategist at Turk Ekonomi Bankasi AS, said in an e-mailed note. Given a recent increase in foreign ownership, selling in the bond market "is likely to continue to exert upward pressure on yields, as long as political distress continues," he said.
The Borsa Istanbul 100 Index fell 0.9 percent after earlier sinking as much as 2.4 percent. The gauge's 30-day volatility climbed to about 20.5 points Thursday, the highest level since March 2.
Tightening Grip
Erdogan, who has run Turkey for more than a decade, has tightened his grip on power since moving to what had been the largely ceremonial role of president in 2014, side-lining Davutoglu, his handpicked successor, along the way.
The crisis suggests more consolidation of Erdogan's power and stronger push for constitutional change, detracting from economic reform, according to Maya Senussi, an analyst at Roubini Global Economics. Politics is re-emerging as source of risk and among reasons for a bearish call, Senussi said.
With Davutoglu saying he will step down, concern over Erdogan's ambitions to change the nation's constitution from a parliamentary to a presidential one, and the consolidation of power that entails, is also resurfacing. The president's persistent calls for lower rates are also seen as encroaching on the central bank's independence.
Political uncertainty will "remain high till a new prime minister is appointed," said Henrik Gullberg, a senior emerging market strategist at Nomura International Plc in London, who's revising his trade recommendation after favoring the lira as an "attractive carry" currency. "With a weaker lira and greater uncertainties with the central bank, the inflation outlook is less favorable and the reform agenda is on hold."
Before it's here, it's on the Bloomberg Terminal.
LEARN MORE