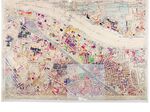 May 21 will mark 75 years since the end of the Blitz, nine infamous months of devastating bombing across the U.K. by Nazi Germany during World War II. But the bombardment did not stop then, particularly for London. Between 1939 and 1945, air raids and rocket attacks reduced 250 acres of buildings to dust and rubble citywide. Close to 30,000 Londoners were killed, and about five times as many were injured.
Amid it all, the London County Council—the old central administrative authority of what used to be called the County of London—diligently mapped the city's traumatic transformation. After an air raid, rescue officers, demolition contractors, and district surveyors from the LCC tiptoed the torn-up blocks, noting human casualties and physical destruction at every lot. Workers back at the LCC offices would then transcribe this information onto a vast set of maps, charting and classifying the extent of the bomb damage in vivid color. (The key to the maps featured here is below.)

Those 110 maps would be indispensable as records of the attacks—and as guides during the city's reconstruction. Today, they are of tremendous value as artifacts of London's history and urban development. Much of what was devastated in the 1940s was subsequently rebuilt and modernized, explaining why certain streets lined with Victorian homes also include blocks of 1960s low-rise apartments. Some neighborhoods, like Elephant and Castle, sat all but demolished for decades before serving as a blank slate for car-oriented, post-war architecture.
For the first time ever, those remarkable maps have been reprinted and published for general readers in The London County Council Bomb Damage Maps, 1939-1945 (Thames & Hudson). Written by Lawrence Ward, a principal archivist at the London Metropolitan Archive, the book captures the human stories behind the maps with firsthand accounts of bombings, rescues, and the work of the LCC.
One civil serviceman, Andrew Butler, is quoted characterizing himself in his diary as a "ruin recorder… a sort of brass hat among the demolition gangs. It means getting into and crawling over the bombed buildings. Then I write reports on them—in categories, from the slightly injured to the entirely smashed—and the Government collects and does things with my catch." That blithe description belies the emotional weight of his job, though. Butler goes onto recount one particularly fraught encounter at an expensive block of flats, lying in ruin after a raid:
And then, as I was going off, [a] nicely dressed lady—sitting on the bit of stonework—called to me and asked if I had been into numbers 58 or 59. I said nobody could get in there yet but it looked as if the Demolition people might, quite soon. To which she replied that number 58 was hers but she had lent it to her niece who was there when it happened—she was afraid—or with friends in the flat below. Did I think there was any hope? So I sat down beside her on the bit of stonework and, looking at the piled-up rocks of concrete, steel girders, broken doors and baths all upside-down, said 'No, my dear,' and she said, 'Thank you.' That was all.
Today, there is no shortage of cities sustaining repeated devastation from bombing and violent attacks. Sadly, London's bomb census maps tell stories echoed throughout history and the world.