The Biggest Party in Pyongyang Will Shape North Korea's Economy
by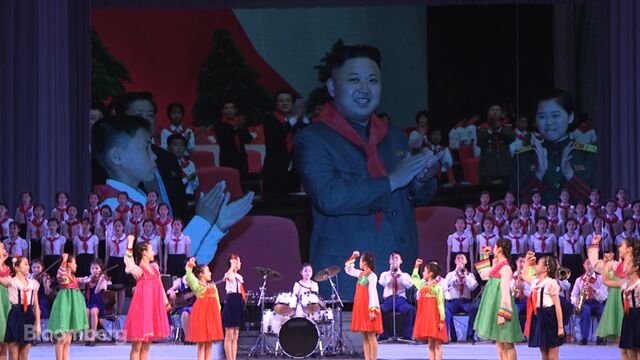 North Korean leader Kim Jong Un has opened the door of his isolated economy a crack to market reforms. Now, as he calls the first congress of the ruling party since 1980, he faces a choice.
Since becoming supreme commander with the death of his father in late 2011, Kim has built his grip on power with purges of senior officials and other provocative actions, including two nuclear tests. But as North Korea loses most of its Cold War benefactors and struggles from a series of droughts and famines, he's also tiptoed into the realm of private enterprise.
Ordering the Workers' Party to hold a full congress for the first time under his leadership gives him the chance to set out his agenda as well as promote or demote officials to shore up his inner circle. What is said and done in Pyongyang during the gathering may indicate how serious he is about economic reform and whether that may be trumped by his desire to preserve control.

"He's implemented some reforms that have paid off and he now feels he has to re-calibrate the country's principle ideology to explain those changes," said Koh Yu Hwan, a professor of North Korean studies at Seoul's Dongguk University. "But drastically changing course won't be easy because no matter how good change is, you don't want to make it if it threatens your third-generation dynasty."
The meeting highlights Kim's increased diplomatic isolation, and will provide a peek at his standing domestically. When his grandfather Kim Il Sung hosted the last congress, North Korea had a better-functioning economy and the event attracted officials from more than 100 nations. This year no foreign delegations are scheduled to attend, and the economy is a fraction of South Korea's.
Prettying Pyongyang
The congress brings together hundreds of delegates from across the country and is expected to last several days. Beforehand, buildings in the capital Pyongyang have been painted and the government has allowed a tightly-controlled visit by foreign journalists, soaking them with propaganda and taking them on a tour of showcase sites in Pyongyang including a collective farm it says is a model for other farms in North Korea to aspire to.
The facade of the April 25th Palace of Culture is draped with red banners with the party symbol—a calligraphy brush, hammer and sickle. On the square outside the Kim Il Sung stadium, children practice a synchronized routine waving flags, while vans with loudspeakers roam the city to broadcast propaganda about the event.
The congress — on a cold and overcast day in Pyongyang — caps efforts to portray Kim as the inheritor of his father and grandfather's mantle, with songs sung in praise of him and his exhortations to work harder posted on billboards around the city. 
While his portrait doesn't feature alongside theirs on building facades or in classrooms, he appears in numerous photographs, offering the ``on-site guidance'' the previous leaders were known for -- whether it be over a nuclear bomb, at a basketball court or in a computer classroom.
Foreign journalists were taken to see children perform songs, dances and acrobatic feats at the Mangyongdae Children's Palace on the eve of the congress. ``I am the happiest child in the world, held in the arms of our great leader Kim Jong Un,'' one girl sang.
Under Kim's rule, North Koreans have continued to look to unauthorized markets to avoid starvation. The unofficial economy, known as "jangmadang," has shared the burden of feeding the population of 25 million. Kim has allowed greater private investment and let farmers take away more surplus production, according to analysts with contacts in the country.

Having pledged to never let his people "tighten the belts again," Kim nonetheless shares the paranoia of prior North Korean leaders that markets may be a conduit for outside information and help sow doubts among locals on the legitimacy of his rule.
"At the end of the day, what really matters is to maintain that grip on power," said Lee Ji Sue, a professor of North Korean studies at Seoul's Myongji University. "Power in North Korea is private property because it's been inherited and Kim doesn't want to risk losing it."
Kim has purged officials including his uncle and one-time deputy Jang Song Thaek, who sought closer business ties with China. While mismanagement, graft and a lack of outside aid has added to the economic misery for North Koreans, dynastic rule has led the Kim family to tightly control information in a way that also restricts trade.
Illicit Markets
As a result, hundreds of illicit markets have sprung up in North Korea and people rely on them for food, according to academic and government studies based on interviews with defectors. Goods shipped from China include memory sticks and CDs of South Korean and Western soap operas and movies, sought even by members of the elite.

Communist neighbors China and the then-Soviet Union also used party congresses to roll out major plans. Deng Xiaoping announced an ambitious program of economic reform in 1978 and Mikhail Gorbachev detailed his policies of openness and restructuring in 1986.
They have in turn grappled with how to open up their economies without ceding control. China turned against liberalization in the first congress after the Tiananmen Square massacre in 1989, with leaders concerned Western democratic thoughts could spur the collapse of the party. But after growth slowed to less than 4 percent, a recently-retired Deng pushed at the 1992 congress for market reforms.
UN Sanctions
North Korea's main ally remains China, which has long been an economic benefactor through energy and other shipments. But it has shown exasperation with Kim's actions, especially his nuclear tests, and is cooperating with the United Nations Security Council on economic sanctions. North Korea has threatened to test a nuclear warhead that can fit on a ballistic missile since it detonated what it called its first hydrogen bomb in January.
The regime's nuclear development took off in the 1990s after a famine killed anywhere from hundreds of thousands to millions of people.

Kim Jong Il prized arms development over economic improvement to keep his hold on power, and the regime looked to handouts from international relief agencies. Defections to China jumped. The country that once rivaled South Korea in economic output could no longer afford the kind of congress that Kim Il Sung held.
"Far and away, the Kim Jong Il period was the unmitigated disaster for North Korea," said John Delury, a historian at Yonsei University in Seoul. "In 1980, North Korea could still present themselves as the 'Korean miracle.' It's not until the 90s that South Korea supplants that as the redefined Korean miracle."
--With assistance from Nicholas Wadhams, Tom Mackenzie and Keith Zhai.
Before it's here, it's on the Bloomberg Terminal.
LEARN MORE