Temporary Housing Stocks Rise as Residents Flee Alberta Wildfire
by
Horizon North Logistics, Black Diamond gain most since January

Market is `grappling' with how work camps to be used: Analyst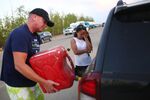 Shares of Canadian companies involved in building or operating work camps for the energy industry surged the most in three months as evacuees from the fire engulfing Fort McMurray in northern Alberta seek refuge in temporary accommodations.
Horizon North Logistics Inc., a Calgary-based support-services company, climbed as much as 35 percent to C$1.90, the most since January, and was up 23 percent to C$1.73 at 1:51 p.m. in Toronto trading. Horizon markets both temporary, movable structures and permanent full-service guest lodges, and operates the Blacksand executive and Birch Mountain lodges located about 30 kilometers (19 miles) north of Fort McMurray.
Black Diamond Group Ltd., which rents modular structures for use as workforce accommodations and temporary work space to the oilfield industry, jumped as much as 22 percent to a March high. WesternOne Inc., a Vancouver-based company focused on acquiring and operating businesses in the construction and infrastructure industries, rallied as much as 41 percent. WesternOne's subsidiary Britco Building Innovation designs and manufactures mobile and modular buildings.
'Idle Assets'
"One of the issues the market is grappling with is the degree to which some of the idle assets that all camp providers own right now will be redeployed into the Fort McMurray area to house people for the rebuilding process," Andrew Bradford, energy research analyst at Raymond James Ltd., said in a phone interview from Calgary. "It is true that evacuees are being housed in various camps north of Fort McMurray. Whether or not that's a permanent situation for people or workers who live in Fort McMurray is very uncertain."
Horizon's first concern is the safety of residents in the area, Chief Executive Officer Rod Graham said in a phone interview from Calgary. The surge in Horizon shares was a combination of the current situation around Fort McMurray and the company's first-quarter earnings released Wednesday, he said.
A message left with Black Diamond wasn't immediately returned.
80,000 Flee
More than 80,000 people from Fort McMurray have been forced to flee their homes as wildfires tore through the northern Alberta community, reducing entire neighborhoods to ash and curbing oil production at Suncor Energy Inc. and Royal Dutch Shell Plc. Morgan Stanley estimated production from the region has fallen by 400,000 barrels a day to 550,000 as producers have opened their work camps to escaping residents.
No deaths or injuries have been reported although 1,600 buildings have been damaged. Alberta's provincial government on Wednesday evening evacuated two communities more than 35 kilometers south of Fort McMurray.
"It's a touchy issue," Bradford said. "So far none of these companies that are housing evacuees are invoicing anybody as far as I can tell. But I don't think companies will do that forever, by any stretch of the imagination. But there's no profiteering at all."
Before it's here, it's on the Bloomberg Terminal.
LEARN MORE