Sharing Economy Is No Threat to Cars, Einhorn Proclaims
Hedge fund managers touting brick-and-mortar companies pour water on their 21st-century rivals.
By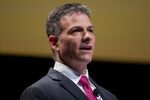 With Uber Technologies Inc. attracting valuations $10 billion higher than General Motors Co., you may be forgiven for heeding whispers that the sharing economy will one day kill off legacy rivals in Detroit.

Greenlight Capital Inc. President David Einhorn, however, isn't in a forgiving mood. He said the death of the car industry has been greatly exaggerated by the kind of people who don't need a parking space. 

"People who predict this tend to work in tall buildings," he told a crowd of more than 3,000 at the Sohn Investment Conference in New York Wednesday, referring to urbanites who powered Uber's ascension. Einhorn made his proclamation as he pitched Greenlight's bullish position in GM. "We don't think ride-sharing will have a material impact on auto sales for many years, if ever." 

His skepticism runs counter to surveys suggesting that one-fifth of Uber users are delaying buying a car because of the availability of the service. Yet at Sohn, fellow hedge fund manager John Khoury echoed Einhorn's notion that the death of 20th-century industry players is far from certain.

Khoury made his remarks while addressing the prospects of a different sharing economy star, Airbnb Inc. In his bullish call on Hyatt Hotels Corp., he said the community lodging marketplace will have an impact limited to the lower end of the leisure market, since travelers are less likely to use Airbnb while on business trips.
The startup shrugged off by Khoury, managing partner of Long Pond Capital LP, already has a higher valuation, at $25.5 billion, than Hyatt's $6.7 billion. 


Uber's most recent funding round pegged the company's value at $62.5 billion, significantly higher than GM's $47.1 billion. 

Both Uber and Airbnb have long been expected to make initial public offerings but ended up staying private longer, as venture funding remains plentiful and the equity markets have stayed volatile.