Inside North Korea, Workers Get Set for Party Meeting
by
Worker's Party Congress is first under Kim Jong Un's rule

Small signs of opening up of economy, market in Pyongyang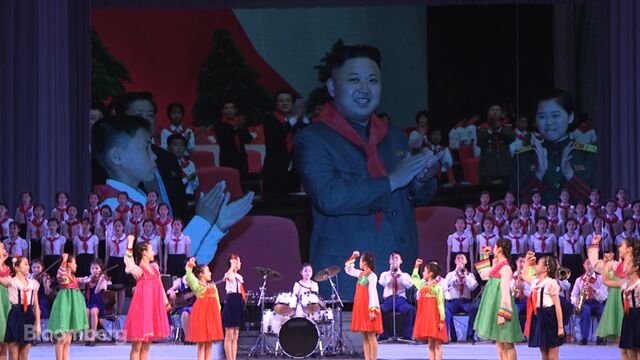 Across Pyongyang, workers are painting apartment buildings and patching cracked sidewalk tiles, prettying up North Korea's capital before the first full meeting of the ruling Worker's Party in 36 years begins Friday.
The facade of the April 25th Palace of Culture is draped with red banners with the party symbol -- a calligraphy brush, hammer and sickle. On the square outside the Kim Il Sung stadium, children practice a synchronized routine waving red flags, while vans with loudspeakers roam the city to broadcast propaganda about the event.
"Let's open up the broad avenue to build a thriving nation in the year of the 7th Worker's Party Congress!" reads one banner hung in the city.
The meeting will give North Korea's leader, Kim Jong Un, the chance to further legitimize his grip on the isolated country five years after he came to power following the death of his father, Kim Jong Il. While little is known of his intentions at the congress, the event may affirm his focus on both military might and economic growth.
To tout Kim's successes, the government has allowed a tightly-controlled visit by foreign journalists, soaking them with propaganda and taking them on a tour of showcase sites in Pyongyang including a department store and a collective farm it says is a model for other farms in North Korea to aspire to.
The farm's managers said the government takes 70 percent of the crop of radishes, cucumbers, lettuce and other produce -- and leaves the rest for the workers to live on. More noticeable are the features once considered formally off-limits to North Koreans, including small private vegetable plots outside each apartment block.
"This farm is not a farm, it is now a city," said 51-year-old Kim Hak Pong, standing amid cucumber plants in a greenhouse on the farm as a government minder looked on. "I hope there's a successful result from the congress and I want to provide big agricultural production for it."

A glossy magazine made available to passengers on North Korea's Air Koryo this week features a history of prior congresses -- the last took place in 1980 -- and includes photos legitimizing Kim's inheritance of leadership from his father and his grandfather, Kim Il Sung, the founder of North Korea.
In one of the final photographs, Kim gesticulates as he gives a speech to aides standing around a metallic sphere with wires sticking out. The caption reads: "Kim Jong Un guides the manufacturing of nuclear weapons."
Modest signs of economic change have been evident since Kim assumed power. Taxis owned by competing state firms vie for passengers on the capital's streets, while Pyongyang-branded mobile phones from national carrier Koryolink are increasingly common, though locals can only make domestic calls and an Internet connection to the outside world isn't allowed.
Official Rate
It's now possible for foreign journalists to change money at the non-official exchange rate of about 8,000 won to the dollar, confirmation that the official rate of about 100 to the dollar is only for show. At the Yanggakdo Hotel, where prices are listed at the official rate, shops won't even accept won -- payment is in dollars, euros or yuan.
A feature about a fish farm in the most recent edition of the Pyongyang Times says the venture was built "with a profitability-oriented business strategy" in mind -- language that would have been unheard of a few years ago.
While Pyongyang isn't representative of the rest of the country, foreign goods have slowly become more available beyond the elite. At the Kwangbok Department Store, a frequent stop for journalists guided through the city, the shelves included Johnnie Walker Red Label whisky at the equivalent of $40 a bottle alongside North Korean-made chocolates and Malaysian potato chips.
Shoppers interviewed by a foreign reporter struggled to answer if they were better off under Kim. Admitting as much might suggest they thought life was worse under his father and grandfather.

"I can find more kinds of goods in the shops, it's easier to get what I need to use at home," said Kim Yong He, a 47-year-old housewife who came to buy soap and bread. Like others who were interviewed, she said she was eagerly awaiting the congress.
Even so, North Korea remains hostile to outside influence under Kim. On the flight into Pyongyang, travelers must fill out a customs form to declare "publishing of all types" and the in-flight video entertainment consists solely of an all-women singing troupe performing anthems to the leadership.
On a recent day, the security check to get out of the airport building took more than an hour as military officers scrutinized cameras and memory cards, and searched for books or movies that might be a negative influence on the country's 25 million people.
A currency exchange counter at the airport was converted to a stall that allowed foreigners to buy international sim cards -- but ran out after selling just seven.
As soon as the passengers cleared out in the late afternoon, the staff left and the airport's lights were switched off. North Korea remains under strict economic sanctions for its nuclear ambitions, and Pyongyang Sunan International Airport would have no more arrivals that day.
Watch Next: North Korea Awaits Rare Party Congress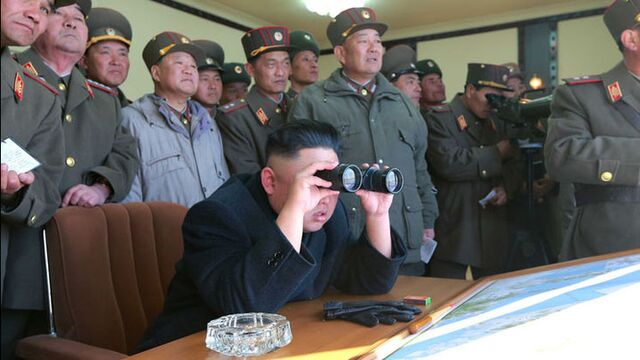 Before it's here, it's on the Bloomberg Terminal.
LEARN MORE