Australia's New Central Bank Chief Will Start Job With Little Room to Move
by
Deputy governor appointed to succeed Stevens from September

Lowe to inherit record-low benchmark rate and disinflation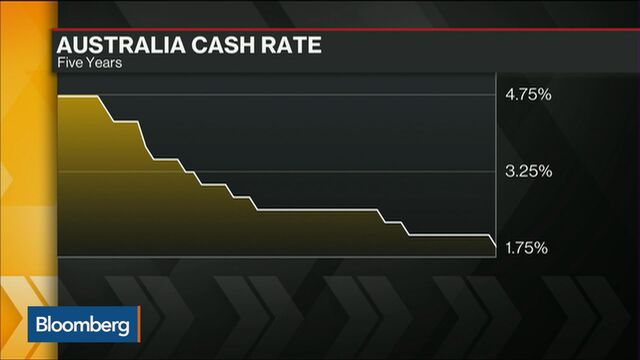 Averting dangerously low inflation looms as priority one for Philip Lowe, Australia's incoming central bank governor. One challenge: he'll be inheriting the least scope ever to cut interest rates.
Lowe is set to begin his seven-year term with the benchmark rate already at a
record-low 1.75 percent. When outgoing Governor Glenn Stevens took the helm, it was 6 percent and reached 7.25 percent in 2008. Some of Australia's peers have seen dramatic transformations since then, with their balance sheets swelling as they undertook quantitative easing.
While QE has yet to enter the policy conversation in Australia, given growth and unemployment rates that compare favorably with the rest of the developed world, Lowe, 54, is set to take on stewardship of an economy with a different look than past decades. He was named Thursday by Treasurer Scott Morrison to take up the post Sept. 18.

Lowe is the first governor in more than 40 years who won't inherit an inflation problem; indeed, he's likely to join developed-world counterparts in trying to revive price growth. When Stevens took the helm in the third quarter of 2006, inflation was 4 percent -- well above the Reserve Bank of Australia's target of 2 percent to 3 percent -- and climbed to 5 percent two years later before the global financial crisis pulled it back.
By contrast, consumer prices fell in the first three months of this year and core inflation had the weakest annual gain on record. In its quarterly policy statement released Friday, the RBA cut the core inflation forecast to between 1 percent and 2 percent for 2016 from between 2 percent and 3 percent predicted in February.
Wage Growth Weak

Wage growth, which previously helped ease consumer-debt burdens and boost household consumption, has slowed to the weakest pace on record and one the central bank describes as recessionary. Incomes grew 2.2 percent in the fourth quarter from a year earlier, just over half the 4.2 percent level in the same quarter of 2006. The lack of pay gains is compounding weak inflation. The silver lining: The RBA says constrained wages are encouraging employers to hire.


Australia's Weaker Growth
The economy expanded 3 percent last year, boosted by inventories, compared with 5.1 percent in the first year of Stevens' tenure. The nation's Treasury in November announced it had lowered the economy's estimated speed limit, or potential growth rate, to about 2.75 percent from 3 percent in May 2015. The International Monetary Fund said in September that, in the medium term, potential growth is likely to be around 2.5 percent.
Export Boom Over
Stevens's early challenge was setting policy amid rising prosperity spurred by soaring export prices. He noted in 2010 that a ship-load of iron ore to China could buy 22,000 flat-screen televisions, up from 2,200 five years earlier. Lowe faces a sliding terms-of-trade and a slump in mining investment that the central bank estimates is only half done.

Job Creation Better, Unemployment Fallen
The jobless rate fell to 5.7 percent in March, a 2 1/2-year low, and the economy generated a record quarterly gain in employment in the final three months of last year. By contrast, unemployment was 4.5 percent in Stevens's first full month in office and would decline to 4 percent in February 2008 as the commodities boom intensified. Looking ahead, the outlook is perhaps a little less positive, with Stevens saying in Tuesday's rate-decision statement that "labor market indicators have been more mixed of late."
Different Vulnerabilities
Domestically, house prices have soared, fueled by record-low borrowing costs. In Sydney, the median price in April was A$955,300 ($714,182), up 8.9 percent from a year earlier. Compare that with A$482,000 in September 2006.
On the international front, the key issue is China. While the world's second-largest economy accounted for much of the A$1 trillion in extra export earnings that Australia reaped during the mining boom, the Chinese leadership's efforts to transition to consumer-led growth is reverberating Down Under.
Stevens also oversaw a continued winding down of manufacturing in the economy -- partly due to Dutch Disease as the resource boom sent the currency to a post-float record of $1.10. This was punctuated by auto manufacturers deciding to cease production in the country.
Rate Ammo
Lowe would inherit a lot less policy ammunition to deal with any severe downturn. Stevens took over with the cash rate at 6 percent and raised it to 7.25 percent in March 2008. He was able to lower it by 425 basis points during the global financial crisis to 3 percent to cushion the economy. As growth revived, he tightened to 4.75 percent in November 2010, before cutting by 300 basis points as the mining boom wound down.
Political Climate
Lowe is likely to assume his role following an election that's tipped for July 2. The political environment has become less stable, elevating the status of the central bank and its steady hand on policy. When Stevens took over in September 2006, the same prime minister had run Australia for 10 years. In the intervening decade, the country has had six leaders and its first minority government -- both firsts since World War II.

Fiscal Limits
Not only does Australia lack monetary policy firepower, but its fiscal options are more constrained. In 2006-2007, the country ran a budget surplus equal to 1.6 percent of gross domestic product, giving the government broad room to stimulate the economy to avert the 2009 global recession. In fiscal 2016, the budget position had reversed to a deficit equal to 2.4 percent of GDP.
Currency Blessing
On the plus side, the Australian dollar has dropped 21 percent in the past two years, improving the competitiveness of exporters and easing monetary conditions in the economy. The Aussie slid to a seven-year low in mid-January, but then recovered some of its ground.
The currency started falling again this week following the rate cut and the RBA lowering its inflation forecast, and is now trading around 73.90 U.S. cents, not too far off the 75.20 cents when Stevens took over on Sept. 19, 2006.
Before it's here, it's on the Bloomberg Terminal.
LEARN MORE