Duterte's No Philippine Economic Expert and That's Unnerving Investors
by , , and
`I would employ the economic minds of the country:' Duterte

Philippine debt rally stalls as peso extends Asia's worst drop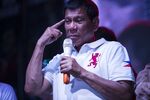 Rodrigo Duterte, front runner in next week's presidential election, has been candid when it comes to describing his crime-fighting and womanizing skills. It's his coyness on economics that is unnerving investors.
Philippine sovereign bonds stalled in May, after rallying 6 percent in the last five months, default risk jumped, stocks fell and the peso weakened as opinion polls show the tough-talking mayor of Davao city leading before Monday's vote. When asked at a televised forum this week whether his recent address to the business community lacked substance, Duterte said he was a lawyer and didn't pretend to be an expert on the economy.
"Why would I attempt to be a smart aleck?" he said. "If I get to be president, I would employ the economic minds of the country, offer them a higher salary. If they weren't impressed with me, I'm sorry."

It was an uncharacteristic moment of humility for a candidate whose endorsement of the extrajudicial execution of criminals and comments on the rape of an Australian missionary attracted international condemnation. Global fund managers say they want to see continuity of the policies of outgoing President Benigno Aquino, who can't run again because of a six-year term limit. He won debt rating upgrades and praise from investors and the World Bank for transforming an economy once called Asia's "sick man."
'Deterioration in Sentiment'
"A Duterte win could add to expectations of some deterioration in market sentiment initially because of his controversial comments," said Hakan Aksoy, a London-based bond fund manager at Pioneer Investment Management, which oversaw the equivalent of about $250 billion at the end of March. "We still think he will eventually choose the pragmatic approach in his policy agenda and will not be looking to reverse the reforms if he wins."
His fund is cautious on Philippine "currency risk," while maintaining its holdings of longer-dated bonds, Aksoy said. Duterte ranked third, behind rivals Mar Roxas and Grace Poe, in a Bloomberg survey last month that asked analysts who was the best candidate to run the economy.
Duterte told business leaders on April 27 that law and order is essential for progress, but didn't elaborate on his economic programs. He said he will open the economy to foreigners by "toning down" restrictions in the constitution. His spokesman, Peter Lavina, said in a statement last week the mayor will provide businesses the "right and proper atmosphere" to prosper, citing what he had done in Davao City. Lavina, who didn't reply to calls and mobile-phone messages for additional comment, said last week that markets were reacting to the uncertainty over the elections.
Baring Asset Management, Aberdeen Asset Management and Nomura Holdings Inc. have all said in recent weeks they would prefer that Duterte was clearer on his economic plans.
Policy Continuity
Investors want to see a continuation of Aquino's fiscal prudence and anti-corruption efforts, according to Vincent Tsui, a Hong Kong-based economist at AllianceBernstein LP, which managed $479 billion as of March 31. The election has impacted local bonds less than the peso because foreigners hold less than 10 percent of domestic notes and demand is supported by ample liquidity in the banking system, he said. 
"The market is a bit concerned about the mayor being elected," Tsui said. "Near term, there could be market volatility surrounding the election."
A Bloomberg gauge of local debt gained for a fifth month in April, the longest rally since November 2014, as the Federal Reserve's signal that it would go slow in raising U.S. borrowing costs boosted demand for emerging-market assets. The measure has gained 85 percent since its inception in January 2010, a period that covers most of Aquino's term that saw the Philippines achieving its highest economic growth since the 1970s.
Yield Premium
The bond measure has retreated from a record high on April 28, while the benchmark stock index slid to a two-month low Friday, after a Pulse Asia Research Inc. poll for ABS-CBN Corp. showed Duterte had 33 percent support, followed by Poe with 22 percent. He held that lead in a more recent poll that put Roxas second. The peso has dropped 2.1 percent in the past month, Asia's worst performance after Malaysia's ringgit.
The extra yield that investors demand to hold 10-year Philippine peso bonds over U.S. notes has climbed to 298 basis points from 190 on March 10, and is "pretty rich," said Joseph Estiva, fixed-income trader at Bank of Commerce in Manila. Yields may be range-bound due to "uncertainty brought by the coming elections," he said.
Dollar Bonds
The nation's dollar bonds have lost 1.7 percent since climbing to a record on April 20, a JPMorgan Chase & Co index shows. BNP Paribas SA recommends selling longer-dated overseas notes as they are susceptible to a correction from a "potential near-term, politically related volatility," according to a May 4 research note.
Investors are likely to stay away from the bond market in the lead-up to the election, and their focus will return to the economy's strength once the race is decided, according to Jose Emmanuel Hilado, chief operating officer at EastWest Banking Corp. in Manila. Local yields will eventually be guided by the direction of U.S. interest rates, he said.
"While we understand the anxiety of society and the market given the uncertainty a Duterte win will bring, we would be wary of any over-reaction," Gary Yau, a strategist at Credit Agricole CIB in Hong Kong, said in a May 4 report. "Fundamentally the Philippines remains one of the healthiest economies in the region, with growth of around six percent."
Before it's here, it's on the Bloomberg Terminal.
LEARN MORE