Dubai Billionaire Al Habtoor Says Donald Trump Is a Loose Cannon
by and
Proposal to ban Muslims from U.S. angered many in Middle East

Al Habtoor initially welcomed Trump's presidential candidacy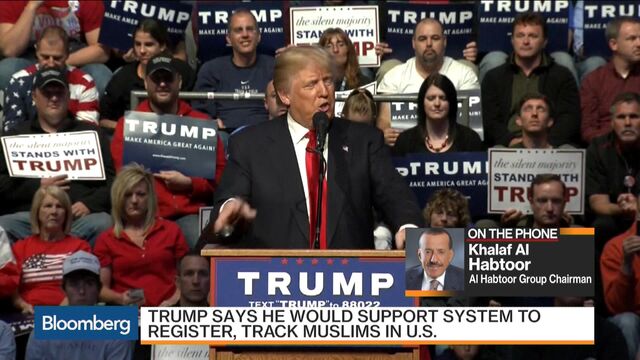 Donald Trump is a "loose cannon" and his possible U.S. presidency is dangerous to the world, a Dubai real estate billionaire said.
Trump, who has courted many of Dubai's businessmen as he looked for potential property developments, drew both ire and ridicule in the Arab world over his proposal to ban Muslims from entering the U.S. Khalaf Al Habtoor, who initially described Trump's candidacy as "a breath of fresh air among usual suspects," retracted his comments in November in The National newspaper under the headline, "I was wrong about Donald Trump and I don't mind admitting it."
"I call him a loose cannon, very dangerous to the world, very dangerous to the world," Al Habtoor, chairman and founder of Dubai-based Al Habtoor Group LLC, said in a television interview with Bloomberg Markets Middle East on Thursday. If Trump were elected president, Arab-U.S. relations would deteriorate, he said.
Republican Party Chairman Reince Priebus declared Trump the party's presumptive nominee late on Tuesday after Senator Ted Cruz exited the primary race. His likely opponent in November's presidential election will be Democratic front-runner Hillary Clinton. John Kasich also suspended his campaign.
While some business partners severed relations or sought to end deals with the New York billionaire, his main Dubai partner Damac Properties Dubai Co. is continuing work on two Trump-managed golf courses and 104 mansions.
Al Habtoor Group's interests include hospitality, automotive and real estate. The company operates hotels locally and abroad and is a distributor of Bentley and Bugatti cars.
Before it's here, it's on the Bloomberg Terminal.
LEARN MORE