Doctor Copper Still Holds Sway as Fed Barometer
Rate hike expectations are moving in tandem with the base metal.
by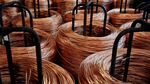 As copper goes, so goes the Federal Reserve. At least, that's what the market thinks.
Copper's ebb and flow are thought to lend insight into global momentum (or a lack thereof) because it's used in everything from household appliances to the wiring that powers them. The highly conductive metal is seen as reliable gauge of economic health: Hence, its oft-used honorific, "doctor."
The transformation of the commodity into a form of collateral, however, (China has stockpiled enough copper to build 30,000 Statues of Liberty) has somewhat diminished the extent to which it still serves as the planet's financial pulse .
But a chart from Renaissance Macro Research LLC shows that the market still believes copper's got a Ph.D. The analysis by Neil Dutta, head of U.S. economics at the firm, reveals that over the past few months, the market-implied number of rate hikes from the Fed over the next year has tracked the gyrations of the base metal fairly closely:

"The rise in oil may just be supply driven. Copper may reflect the fact that global demand remains soft as seen in recent manufacturing PMIs in the emerging markets," explained Dutta. "The weakness in the global economy constrains the Fed."
While the backdrop outside the U.S. remains uninspiring, the economist highlighted that the bounce-back in auto sales and the ISM Non-Manufacturing purchasing managers' index suggest the domestic economy is firming.
"We also know that the U.S. dollar is down and oil prices are up. That is inflationary, which brings the Fed in play," Dutta concluded. "I wonder if that means the Fed may find itself having to surprise the market at some point."  
Before it's here, it's on the Bloomberg Terminal.
LEARN MORE