Chinese Business Feels the Sting of the Party
Entrepreneurs get help from the state—and more threats.
By and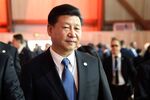 China's entrepreneurs shouldn't simply make money. They must "love the motherland, love the people, love the Communist Party, and actively practice socialist core values," President Xi Jinping told businessmen in March.
The latest to discover this is Ren Zhiqiang, a retired real estate tycoon who must serve a one-year probation for publishing "erroneous views" that "seriously violate the Party's political discipline," according to a May 2 statement by a Beijing party committee. A party member, he got in hot water after questioning the president's call for tighter controls over the media.
Xi's push for ideological purity—directed at journalists, lawyers, and academics—is now targeting business. It's a big shift from the presidency of Jiang Zemin, who welcomed entrepreneurs to the party in 2002. Some Chinese have "unwittingly become trumpeters of Western capitalistic ideology," which could lead to "disastrous consequences," Xi warned in a speech in December at Beijing's Party School, reported Qiushi, the party magazine. The speech's contents were made public on April 30. Such delays are common; the timing signals the government wants Xi's hard-line message out now.
There are about 73 million private enterprises and family businesses in China, according to the State Administration for Industry and Commerce. They range from real estate and pharmaceutical giants to startup game designers and small eateries. Private-sector companies make up more than 60 percent of the economy. While their profits rose last year, those at state-owned enterprises fell.
Despite repeated government pledges to grant private companies equal access to credit and contracts, entrepreneurs have seen limited progress, says Hu Xingdou, an economist at the Beijing Institute of Technology. And they must deal with a newly harsh tone in official speeches and media. On March 10, China Daily wrote that tycoons colluding "with corrupt officials" have sparked "wide doubt over the private sector and its role." Other state media chimed in. "Some businesspeople in the nonstate economy, especially some entrepreneurs, are having errors in their thinking." They "lack faith in Marxism, socialism, and communism," while imagining "China under capitalism would be better," said party periodical Red Flag Manuscript on April 8.
While state media issues warnings, officials are setting up support for innovative companies and cutting red tape and taxes for smaller businesses. Under Premier Li Keqiang, the No. 2 in government and traditionally the one in charge of the economy, registering a new company has become much simpler and faster. The number of administrative approvals companies need has been cut by a third, Li said on March 16, reported the official Xinhua News Agency. "The situation is much better than before," says Li Yonghui, chairman of Kaiyuan Group, a private conglomerate in Hebei province. "It's much more market-oriented."
Still, the public rhetoric is dispiriting. "The earlier generation of leaders were much more open about private enterprise than most today," says Beijing Institute's Hu. He notes that Premier Li is an exception. "Private enterprises, for the government, are an indispensable part of the economy," Hu says. "But if they develop too well, officials may knife them. A strong state can at any time bankrupt or eliminate them."
In the first eight months of last year, senior managers from 34 companies went missing when they were picked up in connection with investigations, according to China's Securities Times. In January, Zhou Chengjian, head of apparel label Metersbonwe, disappeared, reappearing about a week later. The phrase "lost contact," or shilian, has become shorthand for the practice.
Zhou wasn't charged with any wrongdoing. Neither was Guo Guangchang, chairman of Fosun Group, a private conglomerate. He dropped from sight in December. Trading in Fosun's Hong Kong-listed shares halted until Guo resurfaced a few days later. He's "one of China's biggest entrepreneurs, whether measured by taxes paid or revenues earned," says Liu Xiujie, a pharmaceuticals entrepreneur. If Guo isn't safe from shilian, no entrepreneur is.
The bottom line: Xi is demanding ideological fealty from China's entrepreneurs, who had been welcomed into the party by earlier Chinese leaders.
Before it's here, it's on the Bloomberg Terminal.
LEARN MORE