Carney Dances Around Brexit Elephant as BOE Mulls Forecasts
by
Officials to publish rate decision, vote and new projections

Governor will want to avoid giving `hostage to fortune:' Dixon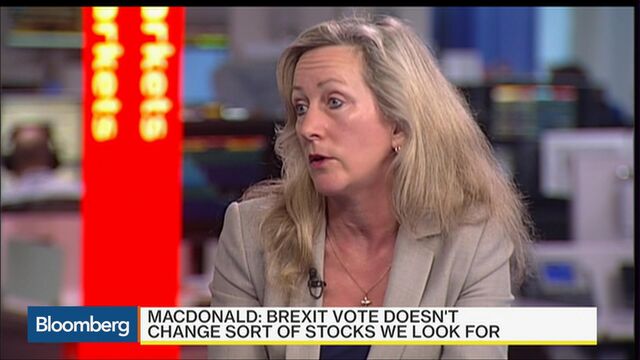 Mark Carney's press conference next week might matter as much for what he doesn't say as for what he does.
QuickTake Will Britain Leave the EU?
With Britain's European Union referendum looming, the Bank of England governor will present economic projections to guide investors on an outlook that has rarely been more clouded in doubt. He also has to balance how far to stray into the fraught political battle against the prospect of criticism for saying too little.
"I can't imagine the BOE would want to give the markets any kind of hostage to fortune," said Peter Dixon, an economist at Commerzbank AG in London. "This will be a bit of an interim forecast which says growth is modest, inflation is muted but marginally picking up moderately, and we'll all be dancing around the elephant in the room."
Uncertainty stemming from the vote is already being felt, with manufacturing shrinking and growth slowing. While the Monetary Policy Committee has signaled it won't rush into action, weak consumer-price increases and economic risks mean it will probably keep its key interest rate at a record-low 0.5 percent on Thursday. The decision and forecasts will be published alongside the central bank's quarterly Inflation Report in London, followed by a press conference with Carney.

Developments that officials will have to assess since their last forecasts in February include a weaker pound, higher oil prices, slower-than-expected growth, muted wage gains and softer business surveys. While Brexit has been named as the culprit for part of the cooling, some economists say it's not the only factor and that the muted global backdrop and unbalanced recovery are also to blame.
Those issues, combined with sub-zero interest rates at the European Central Bank and Bank of Japan and Federal Reserve wariness about the world economy, support the sense of caution among U.K. officials. Economists don't forecast a BOE rate increase until 2017, while investors see no tightening until 2019 and are even pricing in some chance of a cut.
Part of the communications challenge relates to the forecasts themselves. While policy makers could try to strip out the potentially temporary impact of Brexit uncertainty, or produce separate projections based on the Remain and Leave scenarios, both are unlikely, said Vicky Redwood, chief U.K. economist at Capital Economics Ltd.
Risk Scenario
"There are so many risks in putting an explicit scenario in -- you would tread on political toes, you could get the scenario very wrong," said Chris Hare, an economist at Investec Plc and a former BOE official. "They will want to offer a narrative that shows they are on top of the risks without being too explicit about the implications of a Brexit."
Carney said in February that when facing major political events with uncertain results, policy makers assume the status quo in their forecasts.
"You wouldn't expect us to speculate on outcomes or alternative projections associated with different outcomes," he said. Changes in asset prices, exchange rates and household and business confidence will mean some of the risks surrounding the event will already be captured in officials' estimates, he said.
Rate Outlook
The BOE also has past form in side stepping hard-to-calibrate risks in its forecasts. In 2011, then Governor Mervyn King drew criticism after saying policy makers had no meaningful way to quantify concerns about the euro-area sovereign debt crisis in their projections and therefore excluded them.
With the referendum generating more uncertainty about the outlook, officials may reflect this by widening the gap between the high and low projections in the fan charts used to present its forecasts for growth and inflation, according to Sam Hill, an economist at RBC Capital Markets in London. This may dilute the strength of any perceived signal, and its impact on markets, Hill said.
While officials can't completely ignore the short-term adverse effects of the referendum, those factors could dissipate quickly if there's a vote to remain. In that scenario, the inflation-boosting impact from a weaker pound and lower market rates may have a greater bearing and could prompt a reassessment of the rate outlook.
Sterling has depreciated about 3.5 percent on a trade-weighted basis since the last Inflation Report in February.
For now economists including Commerzbank's Dixon are warning against putting too much weight on any changes to the forecasts in this Inflation Report as an indication of future policy.
"Without a shadow of doubt whatever they say is going to be supplanted by the referendum," Dixon said. "Effectively they're doing this because they're required to do it, but I think we all know it's a holding operation until we can get more clarity."

Before it's here, it's on the Bloomberg Terminal.
LEARN MORE