BT Proposes U.K. Network Upgrade to Counter Calls for Breakup
by
Profit beats expectations, aided by EE mobile acquisition

Sky criticizes `limited ambition' of fiber spending plans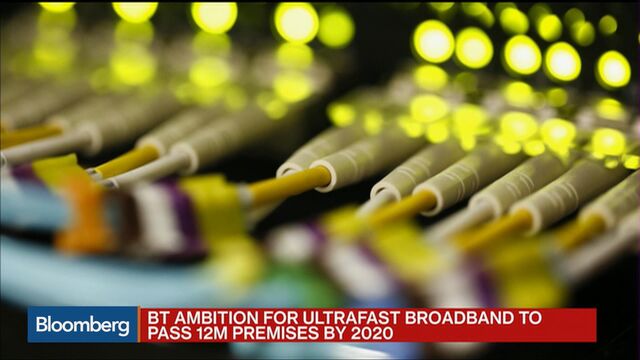 BT Group Plc, seeking to fend off criticism that it has done too little to upgrade the U.K.'s principal broadband network, proposed spending up to 6 billion pounds ($8.7 billion) to bring faster connections to millions of addresses.
The U.K.'s former telecommunications monopoly unveiled the plan on Thursday as it reported better-than-expected fourth-quarter profit, helped by the acquisition of mobile operator EE in January.
BT said it hoped to make ultrafast broadband and 4G mobile connections available to more than 95 percent of the country by 2020. Under the new investment proposal, the company said it aimed to reach 2 million homes and offices directly with "fiber to the premises" connections.
The company outlined the investment plan after some rivals called for a separation of its broadband network from the rest of the company. BT weathered a recent review by U.K. telecom regulator Ofcom without having to make major concessions. 
The proposal is conditional on reassurances from regulators that BT will be able to make a profit from the upgrades, Finance Director Tony Chanmugam said.
"We need to have the regulatory infrastructure to allow us to do that," Chanmugam said  in an interview with Bloomberg Television. "Unless we've got a degree of certainty, we cannot spend that money. I can't look shareholders in the eye."

BT rose 3.3 percent to 453.85 pence at 9:40 a.m. in London. The shares have declined 3.8 percent this year.
In the quarter ended March 31, earnings before interest, taxes, depreciation and amortization rose 14 percent to 2.08 billion pounds, London-based BT said. That compares with an average estimate of 1.93 billion pounds. Sales rose 22 percent to 5.66 billion pounds, compared with an average estimate of 5.67 billion pounds.
Fiber to the premises offers faster Internet speeds than conventional connections that use copper wires for the last portion of the link from on-street cabinets to homes. While BT said it would balance its rollout of fiber-only and copper products according to customer needs, one of its rivals, Sky Plc, criticized the proposal. Sky said it demonstrates the need for an independent company to own the broadband network. As long as it's controlled by BT, Sky said, investment will suffer.
"BT continues to see copper as the basis of its network for 21st century Britain," Sky Chief Financial Officer Andrew Griffith said in a statement. "This limited ambition has been dragged out of BT by the threat of regulatory action."
In the latest quarter, BT's wholesale broadband unit, Openreach, added 415,000 fiber optic connections, including upgrades.
BT has been investing heavily in its TV operations, including buying sports rights, to compete with Sky, which started as a pay-TV provider. Sky now also sells broadband using BT's network and aims to challenge BT in the mobile business.
A separate regulatory review in Brussels could strengthen BT's position in the U.K. mobile market. The European Commission is expected to block a combination of two of EE's rivals -- CK Hutchison Holdings Ltd.'s Three U.K. unit and Telefonica SA's O2 -- people familiar with the situation have said.
Before it's here, it's on the Bloomberg Terminal.
LEARN MORE