Alberta Fires Add Another Setback to Canada's Sliding Economy
by
Output growth rate may slow by half in second quarter

Oil producing province had already fallen into a recession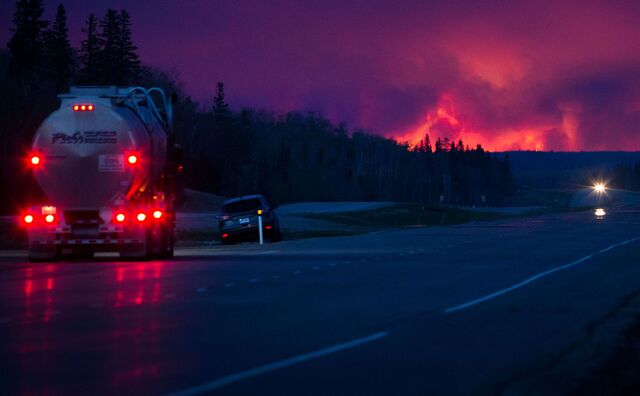 Canada's already sliding economy faces another setback as wildfires ravage the Alberta city at the heart of the world's third-largest crude oil reserves.
Suncor Energy Inc., Royal Dutch Shell Plc, Cnooc Ltd.'s Nexen and Husky Energy Inc. are among companies shutting plants or reducing production following the worst wildfire in the province's history. The damage to Alberta and its heavy crude industry is still being tallied, with 80,000 people evacuated from Fort McMurray, Alberta. Morgan Stanley energy analyst Benny Wong estimated 400,000 to 550,000 barrels a day of production are offline.
"That this adds a heavy headwind to the economy in the second quarter is increasingly clear," said Derek Holt, Scotiabank's vice-president of economics in Toronto. "The shock that is hitting the heart of Canada's energy sector only adds to risk of very little growth in Q2 and risk of contraction."
Canada's output growth for the second quarter was already forecast to slow to a 1.2 percent annualized pace from 2.8 percent between January and March, according to a Bloomberg News economist survey taken before the fires. The slowdown is being driven by a slump in exports to the U.S. that will only be exacerbated by the oil production disruptions.
The fires also may deepen a recession in Alberta, Canada's main oil producing province already reeling from the slump in prices. Ten times the number of people have been displaced by this week's fire, compared with one in 2011 that triggered a plunge in production and helped bring the nation's economy to a near halt.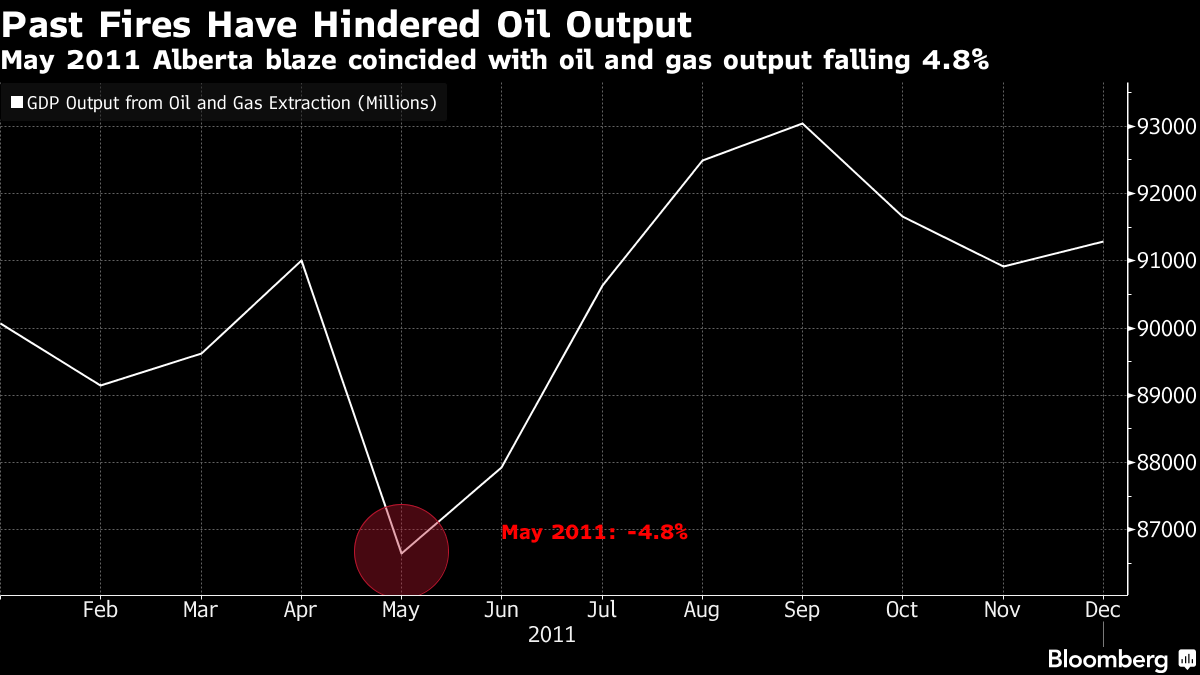 Alberta faces an even deeper challenge. The western province is in a second year of recession with benchmark crude prices and energy investment plunging by about 60 percent. The western province's economy will contract by 0.9 percent this year following a 1.5 percent fall in 2015, according to a Bloomberg survey taken last month.
That in turn will only fuel record deficits for a province that in December lost its AAA rating from Standard & Poor's. Yields on the province's benchmark 2.35 percent bonds due in June 2025 fell to 2.32 percent at 11:53 a.m. Thursday, from 2.39 percent two days earlier.
The 2011 fire triggered a 0.2 percent contraction in Canada's GDP in May of that year, led by an 11 percent drop in oil sands production. Oil and gas extraction fell 4.8 percent that month. The disaster slowed national quarterly economic growth to a 0.8 percent annualized pace, though the return of regular production boosted economic growth over the following months.
---

---
"That's just something that adds to the weakness in the second quarter," said Jimmy Jean, a strategist in the fixed-income group at Desjardins Capital Markets in Montreal.
Fort McMurray is at the heart of the Athabasca deposit, one of three large bitumen reserves that make up Alberta's oil sands where companies produce about 2.5 million barrels a day. Oil-sands crude prices rose after producers cut output.
The evacuation is Alberta's biggest-ever caused by a fire. No deaths or injuries have been reported although 1,600 buildings have been damaged.
Before it's here, it's on the Bloomberg Terminal.
LEARN MORE