Abe Eases Putin's Isolation With Talks on Territorial Dispute
by and
Abe, Putin agreed to solve islands issue together, Kyodo says

Japan reportedly shrugged off U.S. pressure to postpone trip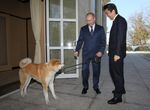 President Vladimir Putin and Japanese Prime Minister Shinzo Abe discussed a territorial dispute that has prevented them signing a peace treaty to end World War II during a rare bilateral visit by a Group of Seven leader to Russia.
Abe suggested a new approach to the dispute over four islands that the Soviet Union occupied in the closing days of the war and Putin basically agreed, the Kyodo news service reported, citing the premier following the talks in Russia's Sochi on Friday. The fact Japan is seeking to maintain relations with Russia, despite U.S. pressure, will allow the two sides to tackle "all the different problems," Putin said last month.
"They confirmed a willingness to develop political dialogue very, very intensively, including at the highest level," Russian Foreign Minister Sergei Lavrov said after the meeting.
The Japanese leader, a key American ally in the Asia-Pacific region, rejected an appeal by President Barack Obama not to go ahead with the visit to Russia, Kyodo reported Feb. 24. Russia is seeking to improve foreign ties as it battles its longest recession in two decades provoked by the collapse in oil prices and international sanctions over its role in the Ukrainian crisis. Abe's trip will be followed by Italian Prime Minister Matteo Renzi's visit next month to a showcase annual investment forum in Putin's home city of St. Petersburg.
Before the talks, Russian officials played down expectations of serious progress in resolving the dispute over the islands, called the Southern Kurils by Russia and the Northern Territories by Japan. The governments in Tokyo and Moscow have yet to sign a peace treaty because of the issue. While Japan has demanded the return of the islands, Russia has offered to give back only two of them.
Forum Talks
Abe said he accepted an invitation to meet with Putin in September at an investment forum in the city of Vladivostok on Russia's Pacific coast, Kyodo reported. Further consideration is needed on the timing of a visit to Japan by the Russian president, he said.
Abe has previously argued for engagement with Putin to further Japan's goal of ending the territorial dispute. The meeting in Sochi marked a breakthrough in the Kremlin's efforts to end Russia's isolation since intervening in Ukraine more than two years ago.
Russian officials sought to make political capital out of Abe's visit, which took place as Japan prepares to host the annual G-7 summit later this month.
"This is yet another indication that Obama's policy of isolation has failed," Alexei Pushkov, head of the Russian lower house of parliament's foreign affairs committee, said by phone. "It's an important visit that shows that Japan has decided not to put all its eggs in one basket."
'Big Risk'
The U.S. considers that "continued unity" among its partners is vital in the approach to Russia, State Department spokesman Noel Clay said by e-mail. "Our relationship with Russia cannot be 'business as usual' as long as Russia continues to violate international law in Ukraine," he said.
In 2013, Abe was the first Japanese leader to make an official visit to Russia in a decade, seeking to resolve differences and expand energy supplies. Relations grew strained shortly after he visited the 2014 Winter Olympics in Sochi, when Japan joined the U.S. and the European Union in penalizing Russia for annexing Ukraine's Crimea peninsula and supporting separatists in its former Soviet neighbor's east.
"This is the worst possible time for going soft on Russia," said James Brown, an associate professor at Temple University in Tokyo, who published a book on the territorial dispute in March. "Abe is taking a very big risk because other G-7 members have made it very clear they don't think it's a very good idea, including Obama on a phone call."
Japan doesn't have the luxury of shunning Russia because it's viewed with deep suspicion by its key regional neighbors, China and South Korea, according to Alexander Baunov, a senior associate at the Carnegie Moscow Center. While Abe isn't naïve enough to believe there'll be a speedy resolution of the territorial dispute, he's willing to promote Japanese investments and loans in Russia to reduce China's role, Baunov said.
"Japan is a country that is friendless in its own backyard, so ties with Russia are very important for it," he said.
Before it's here, it's on the Bloomberg Terminal.
LEARN MORE