TSA Increasing Staffing as Waits Soar at Airport Security Lines
by
U.S. agency also asking Congress for rise in overtime funds

Wait times up after agency criticized for missing explosives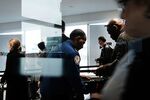 Confronted with projections that airport security lines will surge this summer, the Transportation Security Administration is adding screeners, bringing more bomb-sniffing dogs to congested hubs and asking Congress for funds to increase overtime.
Airlines, airports and lawmakers have been raising concerns about longer lines as passengers in some airports, such as in Charlotte, North Carolina, have missed flights.
Homeland Security Secretary Jeh Johnson on Wednesday said in an e-mailed press release that he had directed TSA to take several steps in an attempt to minimize travel disruptions.
"TSA Administrator Admiral Neffenger and I are acutely aware of the significant increase in travelers and longer wait times at airports, and their projected growth over the summer," Johnson said. TSA chief Peter Neffenger reports to Johnson.
While the volume of travelers is up, TSA staffing has fallen in recent years. Compounding the problem is that measures the TSA has taken to speed lines, such as funneling some regular passengers into streamlined screening reserved for people who have passed a security check, have come under attack by members of Congress and the agency halted them.
The agency has also improved its security standards after undercover tests last year found that a high percentage of simulated bombs weren't detected.
Before it's here, it's on the Bloomberg Terminal.
LEARN MORE