Five Things You Need to Know to Start Your Day
Get caught up on what's moving markets.
by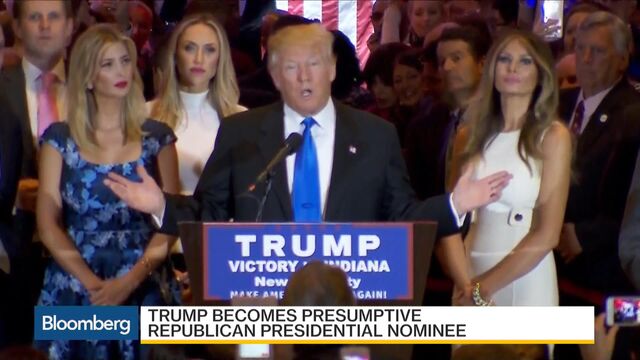 Want to receive this post in your inbox every morning? Sign up here
Donald Trump becomes the presumptive Republican nominee after Ted Cruz steps out of the race, BHP shares tumble as Brazil launches a $44 billion suit and China tries some more stimulus. Here are some of the things people in markets are talking about today.
Trump presumptive Republican nominee
Donald Trump's victory in the Indiana primary, followed by his main challenger for the Republican nomination leaving the race, means that the New York property developer is now a virtual certainty to become the GOP presidential candidate. On the Democratic side Senator Bernie Sanders won an upset victory, but it will do little to diminish Hillary Clinton's nearly insurmountable lead. 
BHP/Vale face $44 billion suit
Shares in BHP Billiton Ltd. declined as much as 9.8 percent in Sydney trading overnight after Brazilian prosecutors filed a 155 billion reais ($44 billion) civil lawsuit against the company and Vale SA over a November dam collapse that killed 19 people and caused severe environmental damage. Shares in BHP dropped 7.2 percent in London trading by 5:23 a.m ET. In the wider commodities market, base metals are losing ground as concerns over global growth and a clampdown on China metals trading weigh on prices. Gold is lower.
China sharpens stimulus
In an attempt to get more targeted with its stimulus efforts, the People's Bank of China is turning on the credit taps to its policy banks in order to channel credit directly to areas of the government's choosing. The new program will mean the three policy banks, China Development Bank, Agricultural Development Bank and Export-Import Bank will no longer have rollover risk on their borrowings from the PBOC's Pledged Supplementary Lending program. The Shanghai Composite slipped less than 0.1 percent in overnight trading, with domestic investors remaining more interested in chasing commodities than stock returns at the moment. 
Another big day for earnings
Royal Dutch Shell Plc beat analyst expectations for its first-quarter profit, with earnings from oil refining and chemical products countering low crude prices. Shares in Societe Generale SA were trading 3.3 percent higher at 5:55 a.m. ET after the French bank surprised the market with an unexpected increase in first-quarter profit. In the U.S., Tesla Motors Inc., Time Warner Inc., and Kraft Heinz Co. are among the many companies due to report today.
Markets are lower
Stocks in Asia are having their worst run since February as commodity shares come under pressure due to rising concerns over sluggish global growth. The MSCI Asia Pacific ex Japan Index declined 1.1 percent in a broad-based regional selloff. In Europe the Stoxx 600 Index was 0.9 percent lower at 6:05 a.m. with every industry in the index losing ground. Stocks in the U.K. fell to a one-month low. In the U.S., S&P 500 futures are down 0.8 percent. 
What we've been reading 
This is what's caught our eye over the last 24 hours.
Before it's here, it's on the Bloomberg Terminal.
LEARN MORE