Trudeau to Host Obama, Pena Nieto Amid Canada-Mexico Visa Spat
by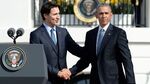 Prime Minister Justin Trudeau hopes to end Canada's long-simmering visa dispute with Mexico when he hosts his North American counterparts next month.
U.S. President Barack Obama and Mexican President Enrique Pena Nieto will visit Ottawa June 29 for the North American Leaders' Summit, Trudeau said Wednesday. Pena Nieto will also make a formal state visit in the days before the summit, Trudeau said, while Canada and Mexico work out a solution on the visa issue.
"I look forward to meeting with President Obama and President Pena Nieto to make real progress on the challenges we collectively face," including increasing trade, Trudeau said.
Canada was due to host a so-called Three Amigos summit in 2015, though it was postponed by former Prime Minister Stephen Harper. Trudeau has sought to rebuild frayed ties with the U.S. in particular, and Obama hosted him at the White House for a state dinner in March. Canada last hosted the summit in 2007, Trudeau said.
Trudeau pledged during last year's election campaign to "immediately" rescind a visa requirement for Mexican visitors, imposed in 2009 by the previous government to stem a spike in refugee claims. Trudeau took power in November and the visa requirement remains in place.
Talks are ongoing on the matter, Trudeau told reporters. "This is a priority for the government. We are working hard on this file at the moment, and we hope that we will have big news to announce in the weeks and months to come,"' Trudeau said.
Before it's here, it's on the Bloomberg Terminal.
LEARN MORE