Services Accelerate, Hiring Cools: U.S. Economic Takeaways
by and
ISM non-manufacturing index rises to a four-month high

ADP says companies add fewest number of workers in three years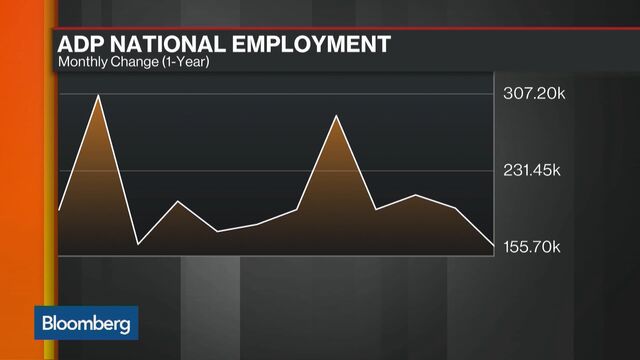 What you need to know about Wednesday's U.S. economic data:
ISM NON-MANUFACTURING INDEX (APRIL)
Rose to 55.7 (forecast was 54.8) from 54.5 in March
Measure of new orders climbed to six-month high, employment firmed
Index of prices paid jumped to 53.4, highest since May 2015
The Takeaway: Faster expansion in the industries that make up almost 90 percent of the economy is welcome news after growth languished at the start of the year. Orders notched a strong comeback, helping ease worries that weakness from abroad could trickle into the broader economy. Hiring in services, according to the ISM's data, rebounded from an exceptionally weak pace in early 2016 -- buoying forecasts ahead of the Labor Department's jobs report Friday. And a boost in the supplier deliveries gauge was a positive signal, indicating that companies were having a tougher time keeping up with orders. Still, services have some ground to make up, and businesses are dealing with costs that are rising at a quicker pace.

ADP PRIVATE EMPLOYMENT (APRIL)
Rose 156,000 (forecast 195,000), smallest advance in three years
Hiring retreated at factories and rose at service providers
Large, medium and small companies all added workers
The Takeaway: The job market appears to have cooled last month, signaling payroll growth may have peaked in this expansion. That's probably inevitable as the economy gets close to full employment. While one month doesn't make a trend, it bears close watching as the financial-market turmoil in early 2016 may have done some damage to business confidence, according to Mark Zandi, chief economist at Moody's Analytics Inc., which produces the data with ADP Research Institute. Most other economists were quick to caution against taking the numbers at face value, keeping intact their forecasts for the April jobs report. Still, they said the ADP figures suggested a downside risk to estimates.

WORKER PRODUCTIVITY (1Q PRELIMINARY)
Productivity fell at a 1 percent annualized rate (forecast was for 1.3 percent decrease) after a 1.7 percent decline in 4Q
Labor costs rose 4.1 percent, biggest gain in a year (forecast was 3.3 percent) following a 2.7 percent advance in 4Q
Productivity rose 0.6 percent in past year, well below the 1995-2005 average of 2.8 percent
The Takeaway: Productivity remains weak, and the outlook isn't great either. The measure of employee output per hour was projected to fall, given the strong performance of the labor market and the sluggish pace of economic growth in the first quarter. Additionally, companies remain reluctant to beef up investment in equipment that could help make workforces more efficient, meaning a near-term pickup in productivity is unlikely. Looking at the past five years, the weak productivity figures point to a "disturbing trend with negative implications for the growth outlook," Laura Rosner, a senior U.S. economist at BNP Paribas, wrote in a note to clients. The report's biggest surprise was labor costs, which jumped by the most in more than a year. While that's good news for workers, it means corporate profits will continue to come under pressure.

TRADE BALANCE (MARCH)
Gap shrank 13.9 percent to $40.4 billion, smallest since February 2015 (forecast: $41.2 billion)
Imports dropped 3.6 percent, biggest decrease since February 2009
Exports fell 0.9 percent to second-weakest level since 2011
Deficit in petroleum trade smallest since February 1999
The Takeaway: The trade gap narrowed for the first time in four months. While U.S. factories were still struggling with tepid overseas demand, purchases of foreign goods dropped by the most in seven years as companies worked off excess inventories. The Chinese New Year, which slows the nation's manufacturing production, occurred in early February and may have prompted its factories to ship as much as possible in advance, triggering the collapse in March. Imports from China were the lowest in almost three years. A rebound in imports probably means the deficit will widen in coming months, indicating trade will be a mild headwind to U.S. growth.

Before it's here, it's on the Bloomberg Terminal.
LEARN MORE