business
U.S. Stocks Decline Amid Mixed Data While Growth Concerns Linger
By
Banks and energy shares, once rally leaders, continue to fade

Priceline tumbles, airlines sink to lowest since February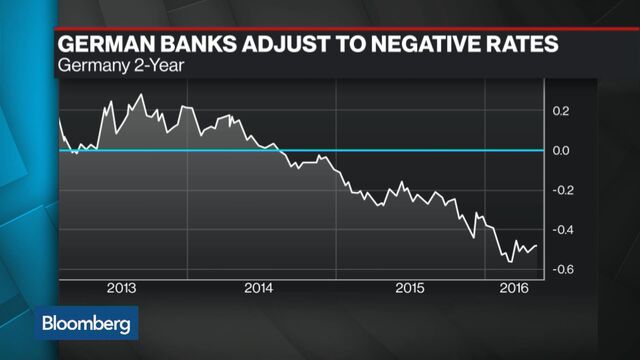 U.S. stocks declined, with the S&P 500 remaining at a three-week low, amid mixed data and lingering concerns weak global growth will weigh on the American economy.
Bank shares were among the biggest losers for a second day, while energy and raw-material producers -- the two strongest groups as stocks rebounded from a February low -- lagged for a third session. Priceline Group Inc. tumbled 7.5 percent after its profit forecast disappointed, with executives citing in part the "fragility" of the global economy. Investors stuck with a recent preference for defensive shares, as utilities, consumer staples and phone companies advanced.
The S&P 500 fell 0.6 percent to 2,051.12 at 4 p.m. in New York, sliding for the fourth time in five sessions to the lowest since April 11. It was the benchmark's biggest back-to-back drop in almost three months. The Dow Jones Industrial Average retreated 99.65 points, or 0.6 percent, to 17,651.26. The Nasdaq Composite Index lost 0.8 percent to a nearly two-month low. About 7.7 billion shares traded hands on U.S. exchanges, in line with the three-month average.
"We had several economic numbers that came out, and ADP in particular was weaker than expected, which is negative for the market," said Richard Sichel, chief investment officer at Philadelphia Trust Co., which oversees $2 billion. "At the moment, data around the world isn't being taken as positive. We started to test the upper end of the range, and with the absence of more good news to push the needle up, we're consolidating and moving down."
A report today showed U.S. companies hired fewer workers in April than estimated, signaling employment gains may have peaked and adding to anxiety over growth sparked by yesterday's weaker factory readings overseas. Separate data showed American service companies expanded in April at the fastest pace in four months, suggesting the economy is firming up after a weak start to the year.

Lackluster earnings and lukewarm signs of economic growth have given investors little incentive to keep pushing a rally that sent the S&P 500 up as much as 15 percent from a February low. After a tumultuous start to the year amid worries about a global slowdown led by China, a rebound in oil prices and signs of stability in the world's second-largest economy lifted the gauge to a four-month high on April 20 to close 1.3 percent away from a record set last May.
"We are back to having the same concerns as the start of the year," said Veronika Pechlaner, who helps oversee $10 billion at Ashburton Investments, part of FirstRand Group, in Jersey, Channel Islands. "We are definitely starting to see consolidation and weakness again. Earnings are still ongoing, with mixed results."
Banks in the benchmark index slid Wednesday to a two-week low, further trimming earnings season gains that approached 12 percent before the rally began to fade. Bank of America Corp. and Citigroup Inc. fell at least 1.6 percent. Zions Bancorporation dropped 3.4 percent, the most since February 23.

After the Federal Reserve left its interest rates unchanged at last month's meeting, traders are pricing in only a 10 percent chance of a boost in June. December is now the first month with at least even odds for an increase. Atlanta Fed chief Dennis Lockhart and San Francisco's John Williams both pushed back against those market expectations, signaling yesterday that the economy could warrant higher borrowing costs when the policy makers convene again in June.
Speaking at the Sohn Investment Conference in New York today, billionaire investor Stan Druckenmiller said while he's been critical of Fed policy for the last three years, he expected it would lead to higher asset prices. "I now feel the weight of the evidence has shifted the other way; higher valuations, three more years of unproductive corporate behavior, limits to further easing and excessive borrowing from the future suggest that the bull market is exhausting itself," Druckenmiller said.
Corporate results continue to hold investors' attention, and with more than two-thirds of S&P 500 companies having reported earnings this season, the outcome so far has failed to suggest a speedy recovery from what's shaping up to be a fourth straight quarterly decline.
Apple Inc., Microsoft Corp. and Alphabet Inc. all forecast sales in coming periods below analyst estimates, sinking large-cap technology shares even as Facebook Inc. and Amazon surpassed forecasts. Meanwhile, banks have used cost cuts to top predictions, helping financial stocks post the second-strongest performance behind energy producers since the reporting period began.
While about 76 percent of the firms have beaten profit forecasts, and 57 percent exceeded sales expectations, analysts still project an 8.2 percent decline in first-quarter earnings, compared with forecasts for flat growth at the start of the year.
"If you continue to see stability in the dollar, and you continue to see oil prices hang in there, you could see another $2 or $3 added to earnings before the end of the year that's not really factored into the market," Chris Hyzy, chief investment officer at Bank of America Merrill Lynch Wealth and Investment Management, said on Bloomberg Television. "The only positive surprise you could see between now and the end of the year, from a fundamental perspective, is that earnings are surprising to the upside."
In Wednesday's trading, seven of the S&P 500's 10 main industries declined, with energy and industrial shares sliding at least 1.2 percent. Utility stocks rallied 1.1 percent, while consumer staples and phone companies also rose.
The CBOE Volatility Index climbed 2.9 percent to 16.05, and is up 9 percent in the last two sessions. The measure of market turbulence known as the VIX rose 13 percent in April, the biggest monthly gain of 2016.
Airlines Sink
Airlines were among the biggest drags on industrials in the aftermath of Priceline's disappointing outlook, which sent the online travel giant's shares down the most since November. American Airlines Group Inc. and Delta Air Lines Inc. sank more than 3.4 percent. A Bloomberg gauge of U.S. carriers fell to the lowest since Feb. 11.
General Electric Co. and Honeywell International Inc., each with a hand in aircraft manufacturing, fell at least 1.3 percent to weigh on the benchmark's industrials group. Caterpillar Inc. decreased 2.8 percent, the steepest slide in eight weeks.
Raw-material companies declined as the price of gold retreated and copper fell to extend a three-day skid. Newmont Mining Corp. decreased 4.4 percent, the largest drop in more than a month. Freeport-McMoRan Inc., the world's biggest copper producer, lost 1.8 percent.
The S&P 500 Energy Index fell 1.3 percent, even as crude edged higher after fluctuating following a government report that showed stockpiles rose more forecast last week. Anadarko Petroleum Corp. and Marathon Oil Corp. decreased at least 4.8 percent.
Under Armour Inc. fell 7.5 percent, the worst since 2011, after announcing the departures of two top executives, raising concern that the athletic-gear maker is losing management talent in key growth areas.
Intercontinental Exchange Inc. jumped 7.3 percent, its strongest since 2011 and the best gain in the S&P 500 today, after abandoning its potential offer for London Stock Exchange Group Plc.
Hain Celestial Group Inc. surged 9.3 percent, the most since August 2014. The maker of herbal tea and organic snacks reported quarterly sales that topped estimates and announced a plan to overhaul its operations. The company suffered a 31 percent stock decline last year. Zillow Group Inc. soared 12 percent on a better-than-forecast sales and earnings outlook.
— With assistance by Manisha Jha
Before it's here, it's on the Bloomberg Terminal.
LEARN MORE