Petrobras Boomtown Turns Desolate as Refinery's Billions Vanish
By and
Unit that drained $14 billion may never produce a drop of fuel

Probe found cartel of 16 companies rigged project contracts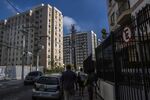 Located just 30 miles east of Rio de Janeiro's bustling Copacabana beach, Itaborai looks like many oil boomtowns after the bust -- except the deserted stores and empty glass towers that loom over this town of 220,000 speak of some bigger cataclysm than the collapse of crude prices.

"They said this would be the new oil city," says Jefferson Costa, one of scores of migrants from Brazil's impoverished north lured here by a multibillion-dollar petrochemical project that was supposed to create more than 100,000 jobs. Work on the complex, known as Comperj, has stopped, and unless new investors materialize, the single refinery now standing may never produce a single drop of fuel. "It's empty inside," says Costa, a plumber who lost his job six months ago when construction came to a halt. "People say it will become a large warehouse."
Comperj has become a symbol of pervasive corruption at Brazil's state-run oil producer, Petrobras. A sprawling investigation by federal police and prosecutors dubbed Operation Carwash has revealed massive graft, implicating construction conglomerates, banks, oil-service providers, shipbuilders and politicians. About 2 percentage points of the 3.8 percent contraction in Brazil's gross domestic product last year can be attributed to the effects of the scandal on the company and its suppliers, according to estimates from Tendencias, a consulting firm based in Sao Paulo.

Court documents related to the Carwash probe show that contracts at Comperj were rigged by a cartel of 16 companies, which made continual changes to the project to boost illicit gains. Kickbacks from the companies were divided among top Petrobras and construction executives and political campaign managers. Petroleo Brasileiro SA, as the Rio-based oil producer is formally known, didn't respond to requests for comment.
In 2008, then-President Luiz Inacio Lula da Silva donned a white Petrobras hard-hat for a rally in Itaborai. Standing next to a bulldozer, he told the assembled crowd that machines would soon swarm Comperj's empty construction site. By then, the budget for the complex had already swelled to $8.4 billion, more than triple the $2.5 billion earmarked in 2004, when the project was first approved. It has already drained more than $14 billion. A similarly sized refinery that Qatar Petroleum is building in a partnership with France's Total SA about 80 kilometers (50 miles) north of Doha is scheduled for completion as early as this year at a cost of $1.5 billion.
Shortages of skilled labor and suppliers typically add 30 percent to 40 percent to the tab for a refinery in South America, according to John Auers, executive vice president at Turner Mason & Co., an engineering firm in Dallas. But with political meddling, graft and bad management, "costs can spiral out of control," he said.
In an April 22 regulatory filing, Petrobras said an internal audit had uncovered irregularities in the purchase of goods and services for its refinery projects. The company has said that it's cooperating with the Carwash investigation and that it's taking legal steps against people and companies that may have harmed its reputation and finances.

The damage to both has been considerable. Petrobras has reduced its planned five-year capital budget to $98.4 billion from a peak of $236.5 billion four years ago. The company is now worth about a seventh of its market value in mid-2008. Some of the investors who bought stock in a record-setting $70 billion public offering in 2010 are suing the company for issuing false statements, overstating asset values and accepting bribes -- claims that Petrobras disputes.
Marcelo Odebrecht, the former chief executive officer of Brazil's largest engineering and construction company, was sentenced to 19 years in prison in March for allegedly coordinating 109 million reais ($31 million) in bribes to secure contracts for Comperj and other Petrobras projects. In a statement, Odebrecht's defense lawyer vowed to appeal the judgment. The CEOs of other Brazilian builders have also been jailed.
The ripple effects from the scandal are being felt elsewhere. Sete Brasil Participacoes SA, an oil-rig provider created to supply Petrobras, filed for bankruptcy last month. That in turn caused National Oilwell Varco Inc., the largest maker of oilfield equipment in the U.S., to remove $2.1 billion from its order backlog for 15 floating rigs it had agreed to supply for Sete.

Conceived as a seven-plant complex, Comperj is now down to a single, 165,000-barrel-a-day fuel refinery. And that will only come online if Petrobras can find an outside investor to pony up at least $2 billion, says Roberto Moro, the company's head of engineering. Even under a best-case scenario, Comperj won't be operational until 2023.
In the meantime, a palpable gloom has descended upon Itaborai, whose ambitions to reinvent itself from an orange-growing area into an oil-industry hub depended on Comperj. Several residential and business towers built to accommodate an expected influx of Petrobras employees and service workers, along with a mall with room for 150 stores and a movie theater, are mostly vacant. Costa, the plumber, sent his family north to their home state of Para while he tries to find work.
"We always hope it will get better," he says. "But it only gets worse."