One Indication That Brexit Worries Are Already Hurting the U.K. Economy
European factories have been outperforming their British counterparts.
by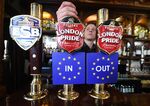 The relative performance of factories in the U.K. and the rest of Europe suggests it doesn't take leaving the European Union to damage the British economy.
The mere threat of Brexit may be enough to do that.
QuickTake Will Britain Leave the EU?
The U.K. and Eurozone manufacturing purchasing managers' indexes have largely trended in the same directions over the past three years. But as of April's reading, the U.K. manufacturing PMI has been breached 50, the level that divides expansion from contraction, while the Eurozone's gauge ticked higher, remaining above this breakeven level:

The U.K.'s print came in at 49.2, its lowest level since February 2013.
According to Citigroup Senior European Economist Guillaume Menuet, the fingerprints of Brexit are all over the downwards trend in the U.K.'s measure of factory activity.
"The pronounced weakness in U.K. manufacturing since the beginning of the year compares very unfavorably with manufacturing sentiment on the European continent, suggesting that the 23 June E.U. referendum is increasingly weighing on UK business confidence," he wrote.
Markit's news release also highlighted how some respondents noted that uncertainty surrounding the referendum prompted clients to refrain from spending.
"An atmosphere of deep unease is building throughout the manufacturing supply chain, eating away at new orders, reducing British exports and putting more jobs at risk," wrote David Noble, group chief executive officer at the Chartered Institute of Procurement and Supply. "We are in for a nervous few months for the manufacturing industry."
Before it's here, it's on the Bloomberg Terminal.
LEARN MORE