The Perfect Margarita Is Made With Mezcal
Adios, tequila.
By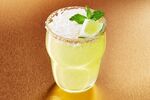 Mezcal, tequila's smokier, sweeter cousin, is having a moment. Exports from Mexico have almost doubled since 2011, with hundreds of varieties available in the U.S., and bars that specialize in the spirit are popping up all over. (Both tequila and mezcal are derived from the agave plant. Tequila is usually manufactured in industrial ovens; mezcal in underground, rock-lined pits.)
Bobby Heugel, owner of Houston mezcal den the Pastry War, uses Del Maguey Vida ($34; 212-674-7500), the "benchmark mezcal" for its lower-proof, fruity character. His version of the margarita (recipe below) swaps triple sec with green Chartreuse, a French liqueur that "draws out the herbal and vegetal qualities you find in the agave and mezcal." Agave nectar lends a natural, rounded sweetness for a beautifully balanced drink.
If you prefer to stick to high-end sipping, find a bottle of Mezcal Vago's Olla de Barro Tobalá ($120; 650-364-8544). It's got an earthy flavor leavened with hints of baking spices and pine, thanks to a recipe that's been passed down for generations in Oaxaca's Sola De Vega region. And you can give an Old Fashioned a bittersweet, peppery kick with one of the latest releases from Wahaka Mezcal, Espadilla Puebla ($300; oldtowntequila.com), a rare distillation from the remote Puebla region.
The Mezcal Margarita
Salt
1½ oz. Del Maguey Vida mezcal
¾ oz. green Chartreuse
¾ oz. lime juice
½ oz. agave nectar
Lightly moisten the rim of a glass with a lime wedge, then roll it in salt. Heugel recommends a half-kosher, half-wood-smoked salt blend from Mountain Rose Herbs to accent the spirit's flavor. Combine remaining ingredients with ice in a shaker, give it a couple of hard shakes, then pour into the glass and top off with fresh ice. Garnish with a lime wedge and a sprig of mint.

Before it's here, it's on the Bloomberg Terminal.
LEARN MORE