LSE Plan Was Meant to Preempt U.S. Bid, Deutsche Boerse CEO Says
By
`Widely known' LSE attracting takeover interest, Kengeter says

Deal will create `liquidity bridge' between Frankfurt, London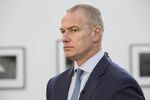 Deutsche Boerse AG Chief Executive Officer Carsten Kengeter said he embarked on a merger plan with London Stock Exchange Group Plc despite uncertainty about Britain's future in the European Union to preempt a potential U.S. suitor from pouncing on its U.K. peer.
"It's widely known that LSE had aroused interest from the U.S.," Kengeter said in a discussion in Frankfurt late on Tuesday. "This interest would have become more concrete within a short space of time. As a result, waiting off was not an option for us, although it would have saved us a lot of questions."
The rationale for combining the operators of the Frankfurt and London exchanges holds up regardless of the outcome of the U.K. June 23 referendum on EU membership, said Kengeter. It's still possible that an interloper makes an approach for LSE, he said.
In his second public appearance in Frankfurt within a week, Kengeter sought to counter local opposition to the deal, saying the combination will create a "liquidity bridge" between London and the "gateway to Europe's biggest economy." The merger will spur more initial public offerings in the German city, he said, adding that Britain's capital staged four times as many IPOs as Frankfurt last year.
Local Critics
Frankfurt will suffer as a financial marketplace if the deal fails, he said. Deutsche Boerse was forced to turn down a 40 million-euro ($46 million) equity placement by a medium-sized company on the city's exchange last year because of a lack of liquidity in this market segment, he said.
Kengeter was participating in a debate with Christoph Schalast, a professor for mergers and acquisitions at the Frankfurt School of Finance & Management, who criticized the decision to base the combined Deutsche Boerse-LSE company in London under U.K. law. The merger risks accelerating the exodus of capital from Frankfurt, said Schalast, who also criticized U.K. Prime Minister David Cameron's influence in the decision. Cameron said in March that the London headquarters were "a good thing, and very welcome."
Deutsche Boerse and LSE haven't yet submitted the merger documents to EU authorities, although they have held discussions with regulators on the agreement, Kengeter said. Many hurdles still lie ahead in pursuit of the deal, he said.