Lou of China Lauds Germany's 'Sick Man' Revival in Reform Push
by and
Finance minister says `painful' restructuring leads to gains

Lou comments amid doubts over reform pledge as lending surges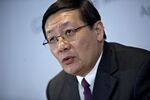 China is looking to Germany for inspiration on how to retool its economy.
Finance Minister Lou Jiwei twice referred to Germany's successful transformation from "the sick man of Europe" to an economic powerhouse in the 2000s to make his case for reforms in China, during a panel discussion in Frankfurt Tuesday.
"Germany seized the opportunity and pushed through structural reforms," Lou, 65, said during an annual meeting of the Asian Development Bank. "As we all know, if we do not reform, we'll fall off the cliff."
Facing the slowest economic expansion since 1990, China's government has pledged to close unprofitable factories, lay off workers and cut debt levels. Its determination, however, has been questioned in recent months as a surge in lending raised concern that the government may instead be prioritizing short-term growth over reforms.
While China faces different economic challenges than Germany at the turn of the century, it shares the need to improve productivity amid resistance from vested interest groups fighting change.
Lagged Behind
In the early 2000s, Germany's economy had gone from being a post-World War II miracle to a laggard in Europe after its bloated social welfare programs eroded the country's competitiveness.
By 2003, then-Chancellor Gerhard Schroeder was overhauling labor rules and social programs in one of the biggest changes since the foundation of the federal republic in 1949. The so-called Hartz labor reforms are often credited with reviving Europe's largest economy. 
Germany's reforms also created the kind of political backlash that China's Communists couldn't tolerate. With the changes spelling an end to job security for many Germans, divisions deepened in Schroeder's party and he lost to Angela Merkel in 2005 elections.
"Structural reforms are painful," but they laid the foundation for Germany to weather the global financial crisis in 2008 and emerge as the economic leader in Europe, Lou said Tuesday.
Lou, a protégé of reformist former Premier Zhu Rongji, has eased fiscal targets to support reforms, and the government has pledged training for laid-off workers and help with corporate debt restructuring. Policy makers aim to strengthen the social safety net as part of a strategy to boost consumption by encouraging people to save less.
Before it's here, it's on the Bloomberg Terminal.
LEARN MORE