Live Nation Wants to Bring Concerts to Your Living Room
A new production studio and new partnerships with Vice Media, Hulu, and NextVR will bring concerts to an all new audience.
By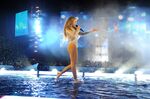 Live Nation Entertainment is the world's largest concert promoter, handling live performances for 3,300 artists, from Bruce Springsteen to Black Sabbath. This summer the company is hosting some of the industry's highest-profile tours, including those by Beyoncé, Drake, and Guns N' Roses, as well as popular outdoor festivals such as Bonnaroo and the U.K.'s legendary Glastonbury Festival. More than 70 million people attend Live Nation musical productions each year, and the company sells many of them tickets via Ticketmaster, which it also owns. Now, in an effort to reach consumers who never set foot in an arena, Live Nation is racing to crank out video and virtual-reality programming featuring acts whose concerts it promotes.
The company has hired MTV alum Heather Parry to build a TV-and-film production studio and has announced plans to produce programs with Vice Media, Hulu, and virtual-reality company NextVR. By letting fans experience the concert vibe at home or on the go, Live Nation hopes to draw more advertising revenue, which already brings it more profits than the low-margin concert promotion business. The company also hopes exposing TV and online viewers to videos of its acts will bolster ticket sales for future live concerts.
Chief Executive Officer Michael Rapino says Live Nation's advantage is simple: access. "We have these magical two hours happening, and we have access to the environment, whether on stage or backstage interviews," he says. "We've been on a quest to take those two hours-plus and start bringing those to life online, on TV, and any screen we can monetize."
Live Nation will produce its first TV show, Earth Works, with Vice's new cable channel, Viceland. On the show, set to premiere this fall, musicians travel to imperiled ecosystems to highlight certain threats through song. In one episode, the band Animal Collective travels to the Amazon jungle to record animal sounds.
Earth Works grew out of Live Nation TV, a joint venture Live Nation and Vice created in 2014 to produce short-form series and documentaries from music events. "We've built a media company in a year, and now is the big moment with our sales forces combined to sell those to the biggest brands in the world," says Hosi Simon, the Vice executive who helps run Live Nation TV.
Besides licensing the joint venture's material to Hulu, Live Nation will also make a few virtual-reality concerts with the streaming service, the companies announced on May 4. NextVR, which streams sporting events and concerts in virtual reality, recently struck a deal with Live Nation to produce long-form live concerts for the next five years.
Live Nation wants these new revenue streams to bolster its profits. While the company generated almost $5 billion in sales from concert promotion last year, that business lost $105 million. Its advertising and sponsorship unit, with sales of just $333 million, was its most profitable division. Live Nation already has a team selling sponsorships of concerts and its various Web properties, so it says that peddling ads to go with its videos is a natural next step.
To make more compelling videos, Live Nation acquired Greenlight Media, which specializes in producing so-called branded content for advertisers. Greenlight helped arrange Intel's video morph of Lady Gaga's face during the tribute to David Bowie during this year's Grammy Awards telecast. Says Dominic Sandifer, co-founder of Greenlight: "It doesn't matter [to viewers] if the content is created by a media company or a brand" as long as the entertainment value is high.
Live Nation and Greenlight are already trading ideas for brand integrations at festivals, such as a festival confessional where they cut up fans' admissions for videos on YouTube and Snapchat. Live Nation also has acquired InDMusic—a company that specializes in boosting viewership of videos on YouTube and other online portals—and says the new outfit is helping boost the audience at many of its venues and events.
Rapino says the draw of properly executed performance video shouldn't be underestimated. "We're not trying to sell two hours of dental work," he says. "This is a very shareable, consumable piece of content. There are only so many people who can get to a certain show, that tour; it drives more awareness."
The bottom line: More than 70 million fans attend events at Live Nation venues annually. Now the promoter hopes to draw them to video concerts.
Before it's here, it's on the Bloomberg Terminal.
LEARN MORE