Italy's Renzi Says Austria `Playing With Fear' on Border Checks
by
Renzi says plan for tighter checks is electorally-motivated

Austria has said may send troops to Brenner Pass, a key link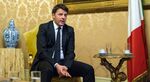 Italian Prime Minister Matteo Renzi said Austria risks reawakening the divisions of European history with its electorally-motivated plans for border-control measures at the Brenner Pass to stem any refugee flow over the alpine crossing.
"What we have seen on the other side of the Brenner can be seen as a pure exercise in propaganda," Renzi said during question time in the lower house in Rome. "It is a dangerous operation because it is playing with fear and when you play with fear you risk strengthening those who are good at recalling the ghosts of the past."
The Austrian government has indicated that it may send troops to the Brenner Pass, a key link between Austria and Italy, for border control, Welt reported, citing Austrian Defense Minister Hans Peter Doskozil. German Interior Minister Thomas de Maiziere said on April 29 that Italy was principally responsible for "what happens at the Brenner."
"The Brenner is a symbol of friendship and dialogue and the closure is little more than a provocation linked to the Austrian election campaign," Renzi said.
Before it's here, it's on the Bloomberg Terminal.
LEARN MORE