Hollande Plots Return From the Dead as French Economy Heals
by and
Socialist president in `race against clock' to sell good news

Polls show he won't even reach second round in next 2017 vote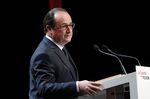 The most unpopular leader in French history has a new mantra and he's repeating it to everyone he meets: "Things are getting better."
That was the refrain again on Tuesday as President Francois Hollande delivered what sounded to many observers like the first version of his 2017 stump speech. With a year to go before French voters elect a new head of state, the embattled leader pointed to a run of good economic news to claim that his reforms are working. He set out his plans for the future as his ministers began to engage party dissidents in a push to get his signature labor overhaul through parliament.
"We're gathering the first fruits," Hollande said at a conference in Paris. "Payback will come in the future."
Hollande's fortunes, which clouded almost as soon as he took office in 2012, have declined consistently this year amid record joblessness, social unrest and discontent among his party's lawmakers. In the Socialist leader's eyes, April was the turning point. Not only was he able to announce a 33 billion-euro ($38 billion) submarine contract, he also saw the biggest monthly drop in jobless claims in almost 16 years and a surge in corporate investment as first-quarter growth figures exceeded economists' projections.
A poll released Wednesday by the Huffington Post showed support for Hollande bounced three points to 16 percent, although that's still close to a record low for a French leader.

Whether the president's mantra can help win round his many doubters will be put to the test over the next two weeks in parliament, where his rebellious majority started reviewing his labor bill on Tuesday. More than 40 Socialist lawmakers are opposing the reform, enough to defeat the bill in the assembly, potentially forcing Hollande to bypass the lower chamber by decree to secure one of his key legislative goals.
"We'll do everything to convince them," Jean-Marie Le Guen, the minister responsible for the relationship with lawmakers, said in an interview on RMC radio while government spokesman Stephane Le Foll was repeating the president's key message on the rival channel Europe 1.
"We've put France back on track," Le Foll said, though the trade figures released Wednesday showed the recovery still has a way to travel. France's trade deficit widened to 13.1 billion euros in the first quarter from 12.3 billion euros a year earlier.
Up Against It
With the first round of the next presidential election looming over the French political scene, the president's chances of re-election are hanging by a thread. Multiple surveys show his disapproval rating stands around 85 percent after four years of lackluster growth in gross domestic product. Polls suggest he won't qualify for the May 2017 run-off no matter which candidates he faces.
"Hollande is in a race against the clock," said Jerome Fourquet, a pollster at Ifop in Paris. "He needs the stream of good news to be sustained for several months, especially on jobs. He and his teams are trying to take credit already, they're in a hurry. It's risky and it'll prove reckless if the news turns bad. But they have no choice."
Hollande has been casting about for a plan since the party rebels in parliament and demonstrators on the streets of Paris forced him to back away from the two pillars of the 2016 agenda. In the space of a month, he abandoned a push for constitutional change that would allow judges to strip convicted terrorists of their nationality and gutted plans to loosen labor laws in the face of protests from unions and business.
Rogue Ministers
Only 17 percent of voters approve of the way he is running the country, according to an Odoxa poll of 994 voters taken April 21 and 22. A separate survey of 1,000 voters by Elabe shows that 83 percent of the population disagree with Hollande's assertion that the country's prospects are improving.
The situation was so bad that Emmanuel Macron, his 38-year-old economy minister and longtime protege, started his own political movement, challenging the president's authority and Prime Minister Manuel Valls hit out at the president's policy "errors" in the Friday issue of Society magazine.
Still, last week, the good news was more than just scraps. As Hollande strutted through DCNS's Paris headquarters after the company had clinched one of the world's biggest defense contracts last week, even the spring sun shone on him -- a marked difference from the public drenching he suffered at the start of his presidency. The 61-year-old head of state beamed with confidence that he had the elements coming together to assemble a bid for a second term.
Australian Submarines
"Recent reforms, as timid as they are, mean the French economy can create jobs with 1 percent GDP growth," Philippe Waechter, chief economist at Natixis Asset Management, said in an interview in Paris. "By the end of the year Hollande may be justified in saying things are better."
In corridors, at lunch tables and on the radio, Hollande's most trusted ministers, advisers and spin doctors are already hammering away, trying to convince a skeptical public that the president's policies and economic diplomacy are starting to yield successes. The bailed-out carmarker PSA Peugeot Citroen is seeing sales rise again, defense contractor Thales is hiring thousands of new workers, cruise-ship builder STX has amassed years of new orders -- and then of course DCNS has those 12 submarines for Australia.
"What matters is to have the will, the coherence and the constancy in your action and then you get results," Hollande said at a visit to Thales's Paris headquarters on Friday. "Look, the economic recovery is here."
Before it's here, it's on the Bloomberg Terminal.
LEARN MORE