Gross Sees Helicopter Cash for Economies From Central Banks
By
Income support needed as robotization threatens employment

Janus manager says alternative is `visit to austerity rehab'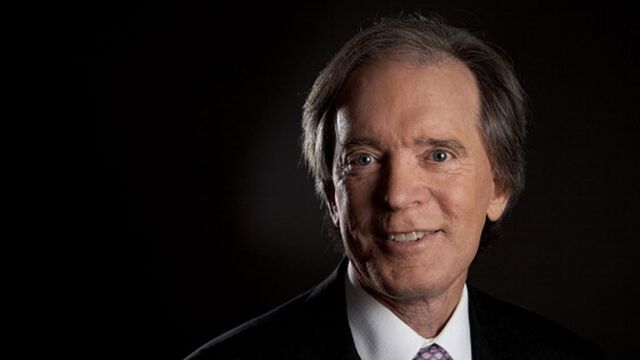 Billionaire bond manager Bill Gross, who has criticized central banks' asset purchases as a Ponzi scheme, said the next step in economic stimulus efforts may be so-called helicopter money showered into people's pockets without new private borrowing or taxes.
"Drop the money from helicopters," Gross, manager of the $1.3 billion Janus Global Unconstrained Bond fund, wrote in his monthly investment outlook for May. "There is a rude end to flying helicopters, but the alternative is an immediate visit to austerity rehab and an extended recession. I suspect politicians and central bankers will choose to fly, instead of die."
Helicopter money is an idea conceived by the late economist Milton Friedman and touted by former Federal Reserve Chairman Ben Bernanke. The fiscal stimulus is built by a cycle of central banks purchasing treasury debt without using funding from private lenders or taxpayers. Ray Dalio, the head of the world's largest hedge-fund manager, said earlier this year that stimulus will have to shift from targeting investors and savers to spenders and consumers.
The Fed, the European Central Bank, the Bank of England and Bank of Japan already have been "stealthily" deploying a type of helicopter money by expanding their balance sheets to stimulate economies for six years through programs such as quantitative easing, according to Gross.
"The money in essence is free of expense and free of repayment as long as the process continues uninterrupted," the fund manager wrote.
Gross, 72, has written often about the failures of central bankers. In his April investment outlook, he warned that the policy makers must spur economies to reflate by 2017 to keep banks and insurance companies in business and reward individual savers. In February, he wrote that central bankers were "increasingly addled" as their policies failed to generate traction for growth.
In his new outlook, Gross said investors should expect helicopter money through a new round of quantitative easing, perhaps even in the U.S., "in a year or so."
Bank of England Governor Mark Carney said last month that he isn't a believer in using helicopter money to stimulate economies.
"You end up in a compounding Ponzi scheme that exacerbates, and there's not a way of structuring around that," Carney told U.K. lawmakers on April 19. "It becomes a problem when you start to take away the stimulus when the economy recovers, when your policy actually succeeds, because we don't have an asset on the other side that meets that liability, and the only way we can meet that liability is by creating more of that liability."
Obsolete Jobs
The need for more helicopter money and government support of personal incomes is increasing as jobs are lost to technology, Gross wrote. From computer-controlled vehicles to computer-driven investing, millions of workers are threatened with obsolescence by robotization and automation. Education and job-training initiatives won't do much to stimulate the economy, according to Gross.
"Our new age economy -- especially that of developed nations with aging demographics -- is gradually putting more and more people out of work," he wrote. "If more and more workers are going to be displaced by robots, then they will need money to live on, will they not? And if that strikes you as a form of socialism, I would suggest we get used to it. Even Donald Trump claims he won't leave anyone out on the street."
Using helicopter money would deprive central banks of political independence by giving them such a big role in fiscal policy, according to Gross. It also may fuel inflation, but that would make it easier for governments to pay off their debt, he said.
Gross, whose unconstrained bond fund returned 2.6 percent this year and 1.7 percent since he took over management in October 2014, laid out investment implications for an economy that faces the prospect of helicopter money.
"Interest rates will stay low for longer, asset prices will continue to be artificially high," he wrote. "At some point, monetary policy will create inflation and markets will be at risk. Not yet, but be careful in the interim. Be content with low single digit returns."