business
Erdogan in Crisis Talks With Turkey PM as Rivalry Escalates
By and
Speculation mounts in local media whether premier will resign

Premier told lawmakers he's willing to forsake all titles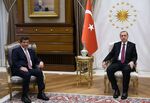 Turkish President Recep Tayyip Erdogan will hold crisis talks with his prime minister on Wednesday as an increasingly public power struggle between the two stoked speculation the premier will resign.
The meeting, originally scheduled for Thursday, comes less than a week after the ruling AK party board stripped Prime Minister Ahmet Davutoglu of the power to name local branch heads. On Tuesday, the usually soft-spoken premier angrily told AKP parliamentarians that he would reject "with the back of my hand, any job that a mortal would not think of leaving."
Without naming names, Erdogan said in a speech at his palace in Ankara on Wednesday that "what's important is to not forget how you came to where you are, what you need to do there and what your targets are."

Rising tension between the country's two leaders is undermining confidence in the $720 billion economy and comes at a time of mounting violence between government forces and the Kurdish PKK group as well as Islamic State militants. Turkish stocks dropped for a fourth day and the lira retreated as investors eyed the outcome of the meeting, scheduled for 6 p.m. local time.
People close to the two leaders have spoken of an unsustainable split in policy making. Erdogan, who served as prime minister for more than a decade until 2014, has transformed the typically ceremonial role of the president to a new center of power. Davutoglu, his handpicked successor, is seeking to portray an image of an independent policy maker.
Closed Doors
"While Erdogan and Davutoglu appear keen to deny any disputes between them, things are not going well behind closed doors," Global Securities chief economist Sertan Kargin said in an e-mailed report.
Asked in a private meeting by AKP lawmakers to clarify his remarks in parliament, the prime minister said that he was evaluating the situation, according to a person present at the discussions. An official with knowledge of the matter, however, said Davutoglu has no plans to resign. Both spoke on condition of anonymity to discuss private deliberations.
Investors "will be looking for the statement after today's meeting. A statement on the elimination of snags between the president and the prime minister can calm down the markets. A statement in the opposite direction could deepen the uncertainty," Is Yatirim, an Istanbul-based brokerage, said in a note.
Media Speculation
The Borsa Istanbul 100 Index dropped 1.9 percent at 4:50 p.m. in Istanbul, while the lira weakened 1.2 percent against the dollar.
Rifts between the leaders emerged shortly after Davutoglu took office. The first major public policy split came when Davutoglu proposed a "transparency package" aimed at tackling corruption. Erdogan, who quashed a corruption probe while prime minister, said the measure was premature and it was withdrawn in February 2015.
Erdogan also scoffed after Davutoglu persuaded the European Union to move up its timetable for waiving visas for Turkish citizens to June. He said the agreement had been reached when he was prime minister, and that no one should present a four-month change in the schedule as a political victory.
Many of the country's leading news outlets published stories on Wednesday speculating over whether Davutoglu would resign. Pro-government columnist Abdulkadir Selvi wrote in Hurriyet newspaper that, when asked whether his speech to the party on Tuesday was a farewell speech, the prime minister said "I haven't yet decided yet."
ANKA, a local news agency, reported that Erdogan would be meeting with ruling party legislators in coming days to discuss the latest developments and get their input on whether or not to continue with Davutoglu. It didn't provide a source for the information.
— With assistance by Benjamin Harvey
(
Updates with Erdogan comment in third paragraph.
)
Before it's here, it's on the Bloomberg Terminal.
LEARN MORE