ECB Urges Rigorous Debt-Reduction Rules as Low Rates Ease Burden
by
Central bank publishes scenarios for reducing euro-area debt

EU rules should be consistently implemented and transparent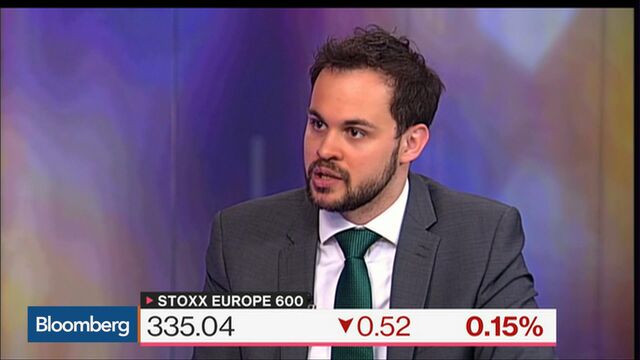 Low interest rates are helping to reduce euro-area public debt, but rigorous enforcement of European Union fiscal rules is also needed to bring the burden down by a "sizable" amount, the European Central Bank said.
Since the end of the financial crisis, euro-area countries have struggled to unwind a debt ratio that stood at around 93 percent of gross domestic product in 2015, with low inflation and anemic growth adding to the challenge. Easing that strain remains a key policy priority, and monetary stimulus provides an opportunity by keeping government borrowing costs low, the ECB said in a study published on Wednesday.
"High government debt poses significant economic challenges and makes the economy less resilient to shocks," the central bank said. "A high debt burden limits the room for fiscal policy to counteract a negative demand shock or may hurt the recovery if pro-cyclical fiscal policies need to be implemented in recessions."

Assuming no change in interest rates, the average decline in the euro-area debt ratio would be 1 percentage point a year from 2016-2026, cutting the burden to about 84 percent of GDP by the end of that period, the ECB study showed. With government borrowing costs 0.5 percentage point higher, the pace of debt reduction would be half as fast.
If countries strictly adhere to the EU's Stability and Growth Pact, the ratio could drop by 2 percentage points a year to less than 75 percent by 2026, the ECB said. By implementing structural reforms that increase potential economic growth, the burden could fall even further.
The Stability and Growth Pact dictates that government debt should not be higher than 60 percent of GDP, or that countries should enact measures to reduce it by one twentieth of the overshoot per year on average. Multiple euro-area countries had debt-to-GDP ratios over 100 percent last year, including Greece's 177 percent and Italy's 133 percent, European Commission data show. 
A key issue though is whether those rules are enforced, as countries have consistently been given more leeway by the EU. France, Italy and Spain have all received warnings in recent years after missing targets on deficit or debt, but none of them has been sanctioned.
Debt Pileup
"The pact's debt criterion has effectively not been implemented since the start of economic and monetary union," the ECB said. "In the absence of a correction mechanism for past fiscal slippages, all of this contributed to a piling-up of government debt."
The Frankfurt-based central bank said the debt rule was a "major lesson" from the European debt crisis and called for it to be applied "rigorously" to ensure the 19-nation bloc's fiscal soundness.
"It should be ensured that compliance with the requirements of the debt reduction benchmark is not unduly delayed," the ECB said. "By converging toward lower levels of government debt and regaining fiscal buffers, the euro area will increase its resilience and fiscal space to cope with potentially adverse economic shocks in the future."
Before it's here, it's on the Bloomberg Terminal.
LEARN MORE