China Oil Slump Seen Joining U.S. Slide to Rebalance Market
by
Production from China to fall 6% this year: StanChart forecast

`China and the U.S. together are doing most of this work.'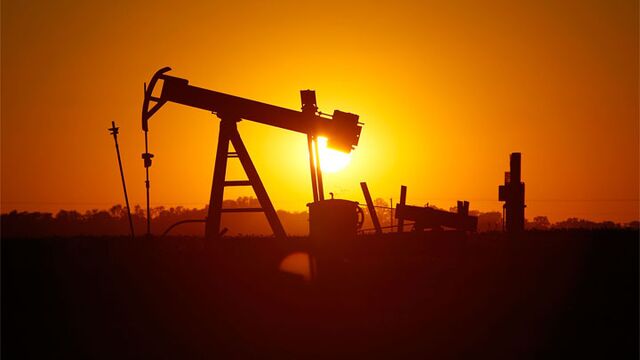 China's falling oil output and sliding U.S. production may help rebalance a market struggling to recover from the worst price crash in a generation, according to Standard Chartered Plc.
Output from China, the world's fifth-largest producer, will average 4.05 million barrels a day this year, down about 253,000 barrels a day from 2015, analysts at the bank including Nicholas Snowdon wrote in a research report. The Energy Information Administration last month trimmed its U.S. crude production outlook for this year to 8.6 million barrels a day.

"China cannot rebalance the global oil market on its own, but China and the U.S. together are doing most of this work," the analysts wrote. "The swing from growth to decline in domestic output means that China's net pull on the oil market will likely increase this year, despite slower demand growth."
Brent crude, the global benchmark, has rallied about 60 percent from its 12-year low in January on supply disruptions ranging from pipeline attacks to field shutdowns. Prices were up 0.4 percent at $45.16 a barrel as of 7:13 a.m. in New York.
Big 3 Cuts
PetroChina Co., the country's biggest producer, sees oil and gas output falling the first time in 17 years as it shuts high-cost fields that have "no hope" of profits, Wang Dongjin, the company's president, said in March. The company expects crude production this year at 924.7 million barrels, down 4.9 percent.
Cnooc Ltd. sees oil and gas output slipping as much as 5.2 percent to as low as 470 million barrels of oil equivalent this year after it surged 15 percent in 2015. China Petroleum & Chemical Corp., known as Sinopec, reported in January that oil and gas output fell for the first time in 16 years and that it will close high-cost fields.
China lags the U.S., Russia, Saudi Arabia and Canada in oil production, according to the International Energy Agency. The country's National Energy Administration said last month that output will slide 6.9 percent to 200 million metric tons this year (about 4.01 million barrels a day).
"High costs, reduced capex and mounting decline rates in the mature fields that have supported China's domestic output for decades have combined to pull output down," the Standard Chartered analysts wrote in the report published Tuesday.
Record Imports
China's crude imports climbed to a record 7.34 million barrels a day in the first quarter, up 13 percent from the same period last year, as higher refining margin encouraged oil processors to boost purchases.
U.S. output has fallen 13 of the last 14 weeks to 8.9 million barrels a day as April 22, extending its decline after last year reaching the highest in more than 40 years.
Before it's here, it's on the Bloomberg Terminal.
LEARN MORE