BOE's Carney Should Dispel Brexit Delusional Fantasy, Posen Says
by
EU exit would be a `loser' for U.K. economy: Peterson chief

BOE Governor Carney is set to present new forecasts on May 12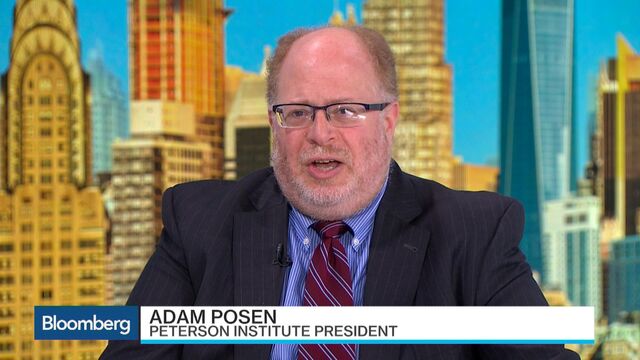 Bank of England Governor Mark Carney should speak out against the "delusional fantasy" that the U.K. economy could thrive outside the European Union, according to former BOE policy maker Adam Posen.
"On any reasonable economic criteria, Brexit is a loser," Posen said in a "Bloomberg Surveillance" television interview with Tom Keene and Francine Lacqua. Since Carney's already entered the debate, there's "no point in pretending to be indecisive. You might as well come out and just say this is stupid," he said.
BOE officials face a communication challenge as they prepare to publish new forecasts in the quarterly Inflation Report next week. Carney has already faced criticism from some lawmakers that his public comments on the Brexit debate appear to back the Remain campaign. The central bank has warned that a vote to leave the EU would extend the downside risks for the economy, with policy makers saying the June 23 referendum may already be weighing on growth.
This all puts Carney in a "very difficult" position, said Posen, who is now president of the Peterson Institute for International Economics in Washington.
"It's like Carney talking about global warning -- you are either in or out," he said in the interview on Wednesday. "If the British people decide, a majority of them, that being anti-immigrant is more important to them than economic performance, that's their business. But I don't think anybody should be pretending that there's no reality to check against."
Before it's here, it's on the Bloomberg Terminal.
LEARN MORE