Bass Says Investors Would Avoid China If They Knew Bank Risk
by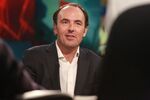 Kyle Bass, founder of Hayman Capital Management, said investors wouldn't be investing in China if they realized how vulnerable its banking system is.
"Common sense will tell you that they are going to have a loss cycle," he said at the Milken Institute Global Conference in Beverly Hills, California, on Wednesday. "So if you think about how precarious that system is, you wouldn't be allocating money to China."
Bass, a hedge fund manager famed for betting against U.S. subprime mortgages, is predicting losses for China's banks and raising money to start a dedicated fund for bets in the nation. Bass said investors putting money in Asia should ask if they can handle 30 to 40 percent writedowns in Chinese investments.
Before it's here, it's on the Bloomberg Terminal.
LEARN MORE