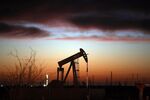 As economists puzzle over why U.S. productivity is stagnating, factory and oil field payrolls might hold a clue. 
Labor output per hour contracted for a second straight quarter,  pulling back at a 1 percent annual rate in the first three months of the year, according to a Labor Department report published Wednesday.

The new data continues a trend: productivity growth in America has slowed in recent years, a fact that could owe partly to the industry in which people are working. Manufacturing and energy production jobs tend to have higher productivity, and they're making up a smaller share of the hours worked in the economy as oil prices slump and the service sector produces the lion's share of employment. That could be a driver behind the weaker gains, the Federal Reserve Bank of Kansas City suggested in April research.
Over the decades, factory payrolls have progressively made up a much smaller portion of the overall labor market. 

Meanwhile oil and gas extraction employment, which rose through the mid-2000s, has also been declining since 2014. And in the energy sector in particular, actual hours worked have taken a recent hit.

The fact that manufacturing and mining hours are making up a smaller share of all the time worked in the U.S. matters because those industries have higher productivity than the private service sector.
The idea that a shift in hours worked toward less-productive sectors is causing weaker productivity supports the theory that the slowdown is cyclical — not owing to decreased innovation in the economy. That's not necessarily a reason for optimism. 
"Even if the industry mix stabilizes, the relative rise of services and relative decline of manufacturing and mining are likely to have a persistent negative effect on productivity growth going forward,''  wrote Willem Van Zandweghe, an economist at the Kansas City Fed  and author of the report. 
It's worth noting that the productivity slump started long before the oil price decline and, while this shift is probably part of the recent story, it isn't a complete explanation. Part of the slowing in productivity may be structural, an idea popularized by economist Robert Gordon and others, particularly as the population ages and innovations become less monumental. It also might owe partly to a slowdown in business fixed investment, said Torsten Slok, an economist at Deutsche Bank in New York. 
The major reason productivity is so low is "partly this energy and manufacturing story — and more importantly that we have has less capital expenditure,'' Slok said. "If you don't invest in your capital stock, then you should expect to see a slowdown in productivity.'' 
Before it's here, it's on the Bloomberg Terminal.
LEARN MORE