Alberta Wildfire Drives Intact Financial Down Most Since January
by
19% of Intact's direct premiums in first quarter from Alberta

Firm insures 1500 houses, 1300 condos, 300 businesses in area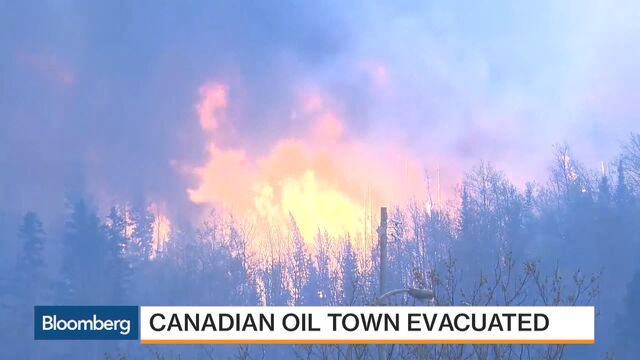 Intact Financial Corp., Canada's largest property and casualty insurer, had its biggest drop in more than three months as a wildfire ravages an area in Alberta where the company insures homes, cars and businesses.
The insurer slipped 3.8 percent to C$87.92 at 12:35 p.m. in Toronto, the biggest drop since January. A wildfire in Fort McMurray, Alberta's oil-producing capital, has already caused the largest fire-related evacuation in the province's history and destroyed about 7,686 hectares (30 square miles) of land.
About 40 losses were reported to the company so far, Intact senior vice president of claims Mathieu Lamy said on a first quarter conference call with analysts Wednesday. In the Greater Fort McMurray area, the company insures 1,500 houses, 1,300 condo units and 300 businesses, Lamy said.
"We've been monitoring the situation since last weekend and activated our catastrophic response plan yesterday," Intact Chief Executive Officer Charles Brindamour said on the conference call. "We continue to assess the situation."
The wildfire has forced about 70,000 residents in at least 12 northern Alberta communities to leave their homes, according to the Canadian Red Cross. Many have taken refuge in nearby cities and even in work camps belonging to oil producers including Suncor Energy Inc. that have been converted to shelters. Alberta is Intact's third-largest market, with 19 percent of direct premiums originating from the province in the first quarter, according to financial filings.
"The fire threatening Fort McMurray could result in insured losses, but the potential magnitude of the damage is a big question mark," CIBC analyst Paul Holden said in a note to clients. He compared the disaster to The Slave Lake wildfire in 2011, which cost Intact about C$50 million in insured losses, he said.
Executives on the conference call said the company's exposure was higher in Slave Lake, where about one-third of the homes were destroyed in 2011, but that there are some similarities between the two events.
Toronto-based Intact also reported first quarter profit of C$1.46 a share, missing the C$1.51 estimate of 12 analysts surveyed by Bloomberg News.
Before it's here, it's on the Bloomberg Terminal.
LEARN MORE