'Hot Summer' of Turbulence Wilts Lira as Erdogan Tightens Grip
by and
Yields climb to one-month high as premier says to step down

Market may still underestimate political risks: Amiya Capital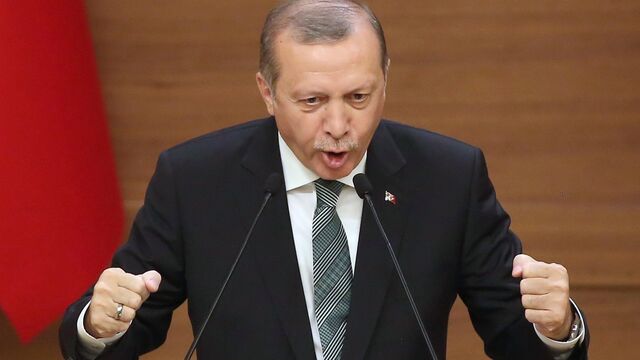 Turkish President Recep Tayyip Erdogan gave investors a taste of just how quickly local politics can undo their investment strategies.
In four days this week, bonds wiped out almost all of the gains achieved last month as markets reacted to a row between Turkey's two most senior politicians that culminated in Prime Minister Ahmet Davutoglu stepping down. Stocks fell to an eight-week low on Thursday, while the lira clawed back some of its losses after the steepest drop since 2008.

The latest political convulsions have reignited concern that Turkey's democratic institutions lack the power to resist Erdogan's bid to expand his powers, which subsided after elections last year gave the AK Party from which he hailed a smaller majority than he would need to change the constitution. Turkish assets will probably now struggle to attract investors "until there is more clarity," according to Michael Wang, a strategist at hedge fund Amiya Capital LLP, which has an underweight recommendation on the lira and stocks.
"Consensus may be underestimating the political risk," London-based Wang said by e-mail. "This could be something more serious. I don't think many people saw this coming. We are more likely to see a bit of headline ping-pong which will make it very difficult to invest."
'Hot Summer'
The yields on 10-year bonds climbed 18 basis points to a one-month high of 9.81 percent by 6 p.m. in Istanbul, and the Borsa Istanbul 100 Index slid 0.9 percent to bring its weekly loss to 7.8 percent. The lira rose 1.3 percent following a 3.8 percent slide yesterday after a person familiar with the matter said the AK Party will hold a leadership contest within 15 days, and the premier won't be a candidate. 
"Spasms like that will become more frequent," said Luis Costa, Citigroup Inc.'s London-based chief strategist for eastern Europe, the Middle East and Africa. "It is going to be a hot summer in Turkey."
QuickTake Turkey's Continental Divide
The political row revolves around efforts by Erdogan, who previously served as prime minister for more than a decade until 2014, to transform the once largely ceremonial post of national president to a position with real executive clout. Davutoglu has been caught in increasingly frequent clashes with Erdogan to assert his authority, and last week was stripped by the AK Party of the power to name local branch heads.
"It was not my preference to see my term cut short," Davutoglu said in the capital Ankara on Thursday after meeting with senior members of the AK Party.
In a televised speech he defended the economic record of his 20-month premiership and played down the rift with Erdogan, with whom he said he shares a "brotherhood."
"Turkey, whose economy was perceived to be near an economic crisis late last year, is currently showing healthy symptoms," Davutoglu said.
"It's a very tenuous situation under Erdogan, given his much more authoritarian style," said Sacha Tihanyi, a senior emerging-market strategist at TD Securities in New York. Market volatility on Wednesday "shows just how vulnerable positioning is," he said.
Broader Selloff
Rising domestic tensions are exerting pressure on Turkish markets just as bearishness toward developing nations mounts with investors bracing for tighter U.S. monetary policy. Two Federal Reserve officials this week raised the possibility of an interest-rate hike at their meeting next month.
Wagers that the Fed would delay tightening were among the key drivers of a rally that sent the lira to an eight-month high and Turkish bond yields to an 11-month low last month. Rising U.S. borrowing costs imply better returns on dollar-denominated assets and temper the appeal of riskier developing nations.
Even after the rout this week, Turkish local-currency bonds have handed investors returns of 9.3 percent this year, more than double the average for a Bloomberg benchmark of emerging-market government bonds.
Real Risks
Turkey is susceptible to swings in investor appetite because its current-account deficit, which economists project will widen to 4.5 percent of economic output this year, makes it reliant on capital inflows. The country was able to narrow the gap in the past two years as plunging oil prices reduced its import bill, although crude has recovered more than 60 percent since touching a 12-year low in January.
"We're winding back exposure to Turkey both bonds and foreign exchange," said Paul McNamara, a money manager at GAM UK Ltd. "The point is that Turkey is economically vulnerable rather than that the removal of Davutoglu is a big change."
The political strife is undermining confidence in Turkey's $720 billion economy at a time when investors are also concerned by an escalating conflict with Kurdish rebels and attacks by Islamic State militants. This week's selloff in Turkish bonds was the steepest among developing nations.
"Real risks to stability" such as growing dissent within the ruling party or the prime minister stepping down may prompt a reaction that's "a lot harsher than what we've seen so far," according to Burak Demircioglu at Istanbul-based Burgan Yatirim Menkul Degerler. "Up until now, the stability was seen as a given."
Before it's here, it's on the Bloomberg Terminal.
LEARN MORE