Xi's Silk Road Dream for China Hits a Speed-Bump in Thailand
by , , and
Thailand rejected offer of financing for rail project

Government not willing to give commercial-development rights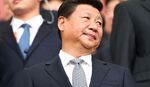 President Xi Jinping is so devoted to his Silk Road project for China to deepen economic ties across Asia that he recently had top Communist officials attend a "study" session on the millennia-old history of the route.
References to the initiative, launched by Xi in 2013 and known as the "belt and road" plan, have become ubiquitous in China, down to even in-flight magazines on its aircraft. As part of the Communist party boss's vision of moving China beyond a century of humiliation at the hands of foreigners, the plan would strengthen trade and investment ties, especially with central and southeast Asian neighbors.
In many ways, the idea makes sense. Those regional neighbors need trillions of dollars' worth of investment to build roads, railways, utilities and airports. And China has surplus industrial capacity, along with access to capital.
Yet the recent failure of a deal for China to help build and finance a rail project in Thailand -- a nation at the heart of the old maritime Silk Road -- offers a sign things may not all come together so easily.
Strings Attached
Behind the offer of Chinese funding and construction help -- at least in the Thai case and according to that country's government -- were strings that its neighbor wasn't comfortable accepting. Chinese officials pressed for the right to develop commercial property at the stations and along the forthcoming rail track, from Bangkok to the northeastern city of Nong Khai near Laos.
"We told the Chinese there is no granting of the land rights," Arkhom Termpittayapaisith, Thailand's transport minister, said in an interview in Bangkok Friday. "Thailand is not the same as Laos," he said, citing concerns about the example of Chinese investment in his country's smaller neighbor.
China acquired commercial-land development rights and requested further collateral for funding, according to Arkhom. An official at the Lao ministry of foreign affairs declined to immediately comment.
Xi has championed a multi-prong strategy of strengthening trade and investment ties with countries across Asia, Europe and Africa that were once part of old commercial routes. The Beijing-based Asian Infrastructure Investment Bank successfully launched last year despite the lack of U.S. support. There's also a $40 billion Silk Road Fund, and bilateral lending through state-owned banks.

The Thai minister stressed that the "door is still open" to Chinese financing, such as through the AIIB. Yet there have been no indications such approaches or discussions are under way. Thailand's finance ministry declined to offer a public comment.
China's Foreign Ministry and the Export-Import Bank of China didn't respond to faxed requests for comment on talks with Thailand over the rail project. President Xi, in the study session with members of the Communist Party's Central Committee on April 29, indicated some recognition of the need to adapt the Silk Road initiative.
"While taking care of our own interests, we will give more consideration and care to the interests of other countries," Xi told the group, according to the official Xinhua News Agency. "I hope people in all countries along the Belt and Road will actually feel the benefit brought by the initiative."
Mind Reputations
Chinese companies must value not only the economic returns from their projects, but their reputations in abiding by laws, Xi said, according to Xinhua.
China's difficulties to implement Silk Road projects in countries such as Thailand are evidence of a "general lack of clarity about the concept," said Richard Jerram, chief economist at Bank of Singapore Ltd. It's unclear whether the Silk Road initiative is more of a foreign policy tool, in which case investments should be combined with aid, or a commercial drive that might not need state investment at all, he said.
"There is a need for infrastructure investment across Asia, but there is no shortage of funding for investible projects," Jerram said.
Economic returns from rail projects are complicated by long payback periods, which can be decades, Thai transport chief Arkhom said. In the case of projects being unsuccessful, it's understandable that investors would want some assurance, he said. 
But that's where national concerns can come into play.
"This project belongs to Thai people," Arkhom said. "Domestically, we have plenty of money."
Before it's here, it's on the Bloomberg Terminal.
LEARN MORE