U.K. Urged to Mull Halting Saudi Arms Sales Over Yemen
by
Yemen conflict led to one of world's worst humanitarian crises

Lawmakers demand probe into breaches of humanitarian law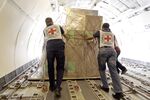 The U.K. should consider suspending arms sales to Saudi Arabia pending an investigation into whether the kingdom has breached international humanitarian law in the conflict in Yemen, a panel of British lawmakers said.
Yemen currently faces one of the "worst humanitarian crises in the world," with 82 percent of the population in need of aid more than a year after Saudi Arabia began airstrikes against Houthi rebels who forced the Yemeni government into exile, Parliament's cross-party International Development Committee said Wednesday in an e-mailed report. It called for an immediate independent investigation into whether there have been breaches of humanitarian law during the conflict.
"The growing evidence of indiscriminate bombing by the Saudi-led coalition in Yemen, in violation of international humanitarian law, raises serious questions over the government's continued licensing of arms transfers to Saudi Arabia," the panel said. It recommended that a broader panel of lawmakers should consider "the case for suspending arms sales to Saudi Arabia until such time as there is evidence that there is no 'clear risk' that arms exported from the U.K. might be used in the commission of a serious violation of IHL."
Saudi Arabia accounted for almost 3 billion pounds ($4.4 billion), or almost 40 percent, of U.K. arms sales in the nine months through December, according to the report. Saudi Arabia made up about 22 percent of BAE Systems Plc's revenue in the year through December, data compiled by Bloomberg show.
Canadian Sale
The U.K. isn't alone in facing questions about its arms sales to Saudi Arabia. Human Rights Watch has urged the U.S., U.K. and other countries to halt weapons sales to the kingdom. Canada should re-examine a planned C$15 billion ($12 billion) sale of light-armored vehicles to Saudi Arabia Belkis Wille, Yemen researcher for the group, wrote in an April 25 commentary for Canada's Globe & Mail.
The committee also called on the government to put pressure on "all parties" to the conflict to agree on a new round of peace talks, ensuring that such discussions are inclusive. Yemen's government suspended its participation in peace negotiations on Sunday, citing rebel activities.
Before it's here, it's on the Bloomberg Terminal.
LEARN MORE