business
Turnbull Gambles on Budget Kickstart for Election Bid
By
Australia government unveils tax cuts for small businesses

Treasurer Morrison seeks to support post mining-boom economy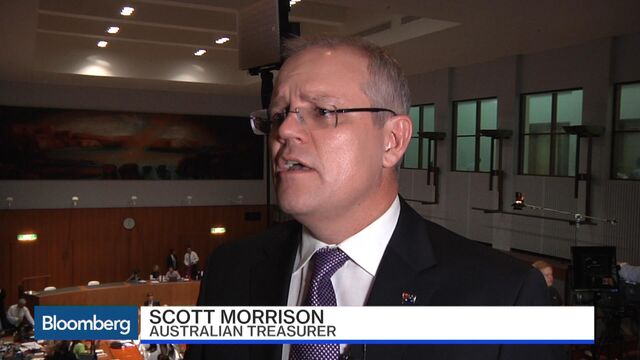 Prime Minister Malcolm Turnbull is betting Tuesday's budget focus on jobs and growth will win back voters disaffected with his government's policy inaction and rejuvenate his bid to win an Australian election to be called within days.
The former banker has suffered sliding approval ratings since ousting predecessor Tony Abbott in September, amid accusations he's failed to deliver on his pledge of providing economic leadership. The government unveiled its fiscal blueprint ahead of an election expected July 2, promising to rein in the deficit without undermining economic expansion.
The budget is "an important national economic plan to support our transition as an economy from a very big resource investment boom to a more diversified economy," Treasurer Scott Morrison said in an interview with Bloomberg Television. Voters will get to decide on that plan at the election, he said.
The government offered tax cuts for small businesses and middle to high-income earners and a jobs package to get more unemployed youngsters into the workforce. It also pledged a crackdown on tax avoidance by multinational companies and cut tax concessions for the wealthiest Australians saving for their retirement -- measures that may broaden the Liberal-National coalition's appeal in the coming election campaign.

"Turnbull is hoping a solid budget that's well received can act as a springboard for the election," said Andrew Hughes, an Australian National University political analyst. "This is his chance to show he's back in control."
By avoiding drastic cuts to government spending and seeking to sprinkle limited sweeteners across different groups, Turnbull is trying to avoid the backlash that hammered Abbott's government two years ago. Abbott and his then Treasurer Joe Hockey angered the public with surprise cuts to health and education. The result was a plunge in opinion polls which ultimately led to Turnbull seizing the leadership in a ballot of Liberal Party lawmakers.
While the urbane Turnbull was a popular replacement for Abbott, an initial spike in poll performance gradually withered as the new leader's "national conversation" on policy proposals, including major tax reform, produced little concrete action.
The coalition trailed the Labor opposition 49 percent to 51 percent on a two-party preferred basis in the latest Newspoll last month. Still, the government heads into the election far ahead of Bill Shorten-led Labor in the number of seats its holds in the lower house of parliament.

Labor won't back the government's budget plan to cut the tax rate for small businesses to 27.5 percent, Shadow Treasurer Chris Bowen told the Australian Broadcasting Corp. on Wednesday, potentially drawing up an election battle front.
"I am quietly confident that the Australian people will give us another term in government, but you can't take anything for granted," Turnbull said in a Channel 9 television interview on Wednesday. "It's a choice between me and Bill Shorten: who do Australians trust to manage this transition from the mining construction boom to the new economy."
Turnbull used the interview to confirm the election will be held on July 2 and that he would call it before May 11.
The budget may be the catalyst to push the government back into the lead, the Australian National University's Hughes said. "Turnbull is hoping to win trust," Hughes said. "It sets the scene for a swing back in the polls and for the coalition to regain the momentum."
(
Corrects data in chart following paragraph eight in story first published May 3.
)
Before it's here, it's on the Bloomberg Terminal.
LEARN MORE