Spain Calls June Election as EU Questions Rajoy's Budget
By
Election re-run called after lawmakers fail to appoint premier

EU sees deficit-goal breach even as economy sustains momentum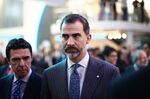 King Felipe called an election re-run for June 26 in a bid to break the political stalemate in Spain, as the European Commission questioned caretaker Prime Minister Mariano Rajoy's budget math.
Spaniards will be heading back to the polls six months after electing the most divided parliament in the country's history. The ballot comes during a critical week in European politics with the U.K. voting on whether to leave the European Union three days earlier and EU leaders gathering for a summit in Brussels on June 28.
After leading Spain out of its five-year economic slump and weathering a storm of corruption allegations, Rajoy's first term as prime minister ended in electoral deadlock with four parties pushing competing visions of the country's future and failing to reach a compromise. While Spain's recovery has so far shrugged off the political uncertainty, European officials are demanding more action to bring the nation's public spending under control.
EU Forecasts
In a report published Tuesday, the European Commission projected that Spain will take at least two more years to narrow its budget deficit below 3 percent of output in line with euro-zone rules. Spain has consistently missed its deficit target since it entered the commission's excessive-deficit procedure 2009, and was instructed to comply with the limit by this year.
The Rajoy administration said last week it could meet the 3 percent limit in 2017. The nation risks EU-led sanctions after overshooting its goal by almost one percentage point last year.
"There will be elections in Spain, and it's up to the Spanish people to judge things," EU Economy Commissioner Pierre Moscovici told reporters in Brussels. "You have the figures to determine how this judgment can be filled. They show a macro-economic performance which is still very good, and on the public finances side some efforts that are still to be made."
Speaking in Madrid, Acting Economy Minister Luis de Guindos said Spain would only need an extra year to cut its deficit below 3 percent. Asked about potential sanctions after last year's miss, Guindos said the Spanish deficit should be seen in the broader context.
"Just four, five years ago we were a big problem, you need to look at how Spain was then and how we're leading growth now," he said. "No one can call into question Spain's fiscal efforts."
Opinion Polls
Rajoy is aiming to consolidate the position of his People's Party as the biggest in parliament in June, and increase the pressure on his rivals to let him stay in power at the head of a coalition government. Pedro Sanchez, whose Socialists placed second in December, has said he won't support Rajoy because of his ties to a party graft scandal. The premier has denied any wrongdoing.
An opinion poll in El Pais newspaper Sunday showed support for Rajoy's PP at 29 percent from 28.7 percent in December. The Socialists slipped to 20.3 percent from 22 percent while the anti-austerity party Podemos fell to 18.1 percent from 20.7 percent. Pro-market Ciudadanos was on 16.9 percent compared with 13.9 percent in the last election.
In an interview Sunday with La Razon newspaper, Rajoy said his party was the most "useful" for Spain and that the new elections were a "lesser evil" than a government including anti-austerity parties that may seek to undo his reforms.